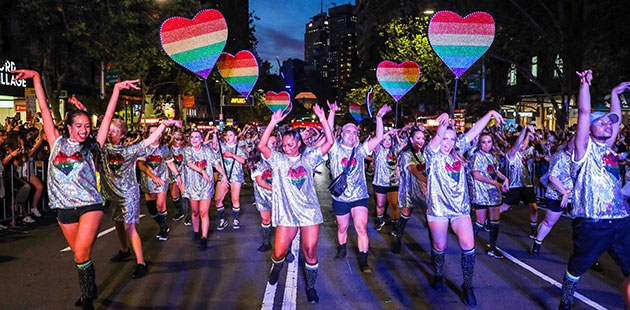 The City of Sydney is reviewing the planning rules for Oxford Street, as part of an initiative to revitalise the creative and cultural precinct and support local businesses.
The City is calling for community feedback on a strategic planning review of the area, to help determine the entertainment and retail strip's future. Lord Mayor Clover Moore said the City is planning for the famous street's future while preserving its rich history and strong ties to the LGBTIQ community.
"The pandemic has hit our cultural and hospitality sectors incredibly hard. Bars, restaurants and clubs were among the first businesses shut down and for Oxford Street, so rich with these venues, the impact has been devastating," said the Lord Mayor.
"The physical distancing measures required to save lives and prevent another devastating outbreak of Covid-19 continue to impact the livelihoods of many, including businesses on Oxford Street. But life is beginning to return, and it is wonderful to see businesses on Oxford Street beginning their coronavirus recovery."
"We're currently investigating planning changes that will breathe new life into Oxford Street and to secure the area's creative and cultural future. We want the community's feedback to ensure the planning rules best support more cultural, creative, entertainment and late-night activities," said the Lord Mayor.
Lord Mayor Clover Moore said the City and State Government are also delivering a clear and safe plan for activating the city through summer and support local businesses, including on Oxford Street, to recover from the impacts of the Covid-19 pandemic.
"The City and the NSW Government are working together to transform Sydney into a 24-hour al fresco city over summer and beyond, and this will be of great assistance for Oxford Street businesses," said the Lord Mayor.
"We will set up outdoor performance stages in key city locations, fund live music and performance in venues, bars and restaurants, and deliver a summer of outdoor dining. We will breathe life back into our city centre while ensuring the safety of residents, workers and visitors."
"This will help our city businesses survive in the short-term, and create new opportunities to thrive in the long-term," said the Lord Mayor.
---
The City of Sydney is encouraging the community to contribute to the review by completing an online survey, taking our self-guided walking tour (on mobile phone) or writing a love letter to Oxford Street. Online feedback closes Tuesday 3 November 2020. For more information, visit: www.cityofsydney.nsw.gov.au for details.
Image: City of Sydney Staff participating in the Sydney Gay and Lesbian Mardi Gras Parade on Oxford Street (supplied)