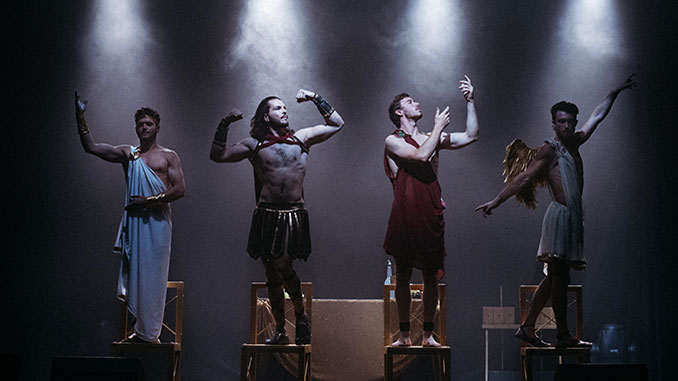 Having amassed countless five-star reviews and multiple sold-out houses for their previous seasons of Railed and Elixir, Head First Acrobats now return home to bless Melbourne audiences with their latest opus; GODZ.
The most highly reviewed show at this year's Adelaide Fringe Festival, GODZ runs from the 6 to 23 October during the 2022 Melbourne Fringe Festival and promises to be the biggest party to hit Mount Olympus since 500 BCE.
The boys from Head First Acrobats take their unique mix of storytelling, circus, and physical prowess to god-like proportions in this latest offering. Expect a bodyssey of gravity-defying stunts, true tests of heroic strength and muscularity, and surprise comic twists.
It's a hedonistic, head-first dive into the lives of the ancient Gods of Olympus. With undisputed superstars of the age Cupid (the God of Love), Hercules (the God of Strength) and Dionysus (the God of Wine) in the mix, GODZ is a hot ticket season this Melbourne Fringe Festival.
"GODZ is a comedy show – a proper belly laughs comedy show," says Head First Acrobats Thomas Gorham. "Of course there are incredible acrobatics happening constantly, but the real treasure in GODZ is the connection to the crowd and the playfulness of the performers.
"Right from the beginning the whole thing feels like it's not taking itself seriously. It threads the needle perfectly in being a great spectacle, but also a knowing and cheeky spectacle that pokes fun at itself, with you watching."
Renowned for being incredibly cheeky and highly provocative, Head First Acrobats leave nothing behind in this latest Adults Only, five-star season. Based in Melbourne, they are regulars on the international touring circuit and are a multi-award-winning entertainment company.
With an undisputed talent for developing shows that are the talk of the town, GODZ is most definitely not an exception.
Creators: Head First Acrobats | Director: Head First Acrobats and Malia Walsh | Featuring: Thomas Gorham, Callan Harris, Jordan Twartz, Liam Dummer | Lighting Design: Nemo Gandossini Poirier
---
GODZ
Runaway Festival Park (The Vault) – Testing Grounds Market Square, Queen Victoria Market, Melbourne
Season: 6 – 23 October 2022
Bookings: www.melbournefringe.com.au
For more information, visit: www.headfirstacrobats.com for details.
Image: Thomas Gorham, Callan Harris, Jordan Twartz and Liam Dummer – photo by Jacinta Oaten