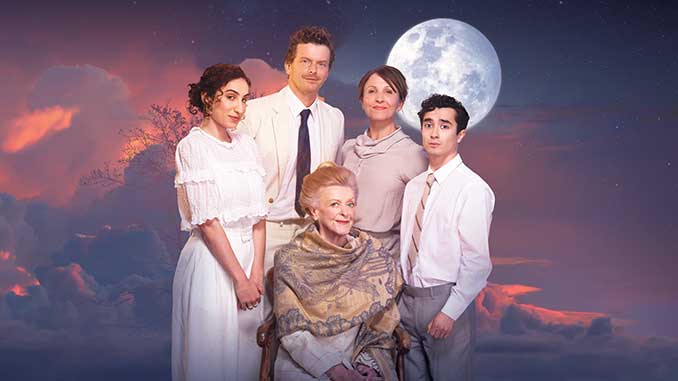 Hayes Theatre Co has announced the cast for the acclaimed Stephen Sondheim musical A Little Night Music, which opens in October. Winner of five Tony Awards including Best Musical, A Little Night Music is a wonderfully witty and deeply moving romance, exploring desire, passion and regret.
Inspired by the 1955 Ingmar Bergman film Smiles of a Summer Night, A Little Night Music is set in Sweden in 1900. Actress Desiree Armfeldt is caught in a love triangle with lawyer Fredrik Egerman and Count Carl-Magnus Malcom… and their wives. After an unexpected invitation, suspicion and jealousy heighten as the characters all meet for one climactic weekend in the country
As previously announced, Australia's favourite leading lady and namesake of Hayes Theatre Co, Nancye Hayes plays the role of Madame Armfeldt. The recipient of many industry awards, including three Lifetime Achievement Awards, three Helpmanns, four Green Room, two Glugs and a Mo, Nancye Hayes AM takes on her favourite role for the third time in her illustrious career.
Playing the role of Desiree Armfeld is three-time Sydney Theatre Award winner Blazey Best (Miracle City, Gypsy). Returning to the stage as Frederik Egerman after his appearance in Emmy Award nominated TV series The Pacific, is Leon Ford (Tartuffe) while Melanie Bird (Jekyll and Hyde) plays his wife Anne Egerman.
Currently playing Tobias in Sweeney Todd, Jeremi Campese plays their son Henrik Egerman, while Hayes Theatre Co favourites Josh Robson (The Phantom of The Opera, Metropolis) and Erin Clare (9 to 5, American Psycho) play Count Carl-Magnus Malcom and Charlotte Malcolm. Rounding out the cast are Kiana Daniele (SIX) as Petra and Pamelia Papacosta (Evita) as Frederika Armfeldt.
Hayes Theatre Co welcomes back award-winning director Dean Bryant (Sweet Charity, Assassins, Merrily We Roll Along) to helm this production. "A Little Night Music is beautifully honest about the human comedy of finding the person to live our lives alongside," he said.
"Sondheim and Wheeler's creation is a gift to any actor, and I'm thrilled that the Hayes has assembled such a witty and passionate group to bring this story alive," said Bryant.
Bryant has assembled a stellar creative team including choreographer Shannon Burns and musical director Andy Freeborn, set designer Jeremy Allen, costume designer Angela Doherty, lighting designer Veronique Bennett, sound designer David Grigg and associate musical director Alec Steedman.
In his review of the original 1973 Broadway production, Clive Barnes in The New York Times called the musical "heady, civilized, sophisticated and enchanting" and noted that "the real triumph belongs to Stephen Sondheim…the music is a celebration of 3/4 time, an orgy of plaintively memorable waltzes, all talking of past loves and lost worlds."
With Music and Lyrics by Stephen Sondheim and a Book by Hugh Wheeler, A Little Night Music features the classic songs like A Weekend in the Country, The Miller's Son and the iconic and pensive Send in the Clowns.
Sondheim's towering wit and insight into human nature revolutionised musical theatre with shows like Sweeney Todd, Into The Woods, Gypsy, Assassins, and this legendary musical which many consider his finest achievement.
In Sondheim's words "perpetual anticipation is good for the soul but it's bad for the heart" – so don't wait, come, and indulge in the wonders of A Little Night Music.
Director: Dean Bryant | Featuring: Blazey Best, Melanie Bird, Jeremi Campese, Erin Clare, Kiana Daniele, Leon Ford, Nancye Hayes, Pamelia Papacosta, Josh Robson | Choreographer: Shannon Burns | Musical Director: Andy Freeborn | Associate Musical Director: Alec Steedman | Set Designer: Jeremy Allen | Costume Designer: Angela Doherty | Lighting Designer: Veronique Bennett | Sound Designer: David Grigg | Stage Manager: Anastasia Mowen
---
A Little Night Music
Hayes Theatre Co, 19 Greenknowe Avenue, Potts Point
Season: 13 October – 11 November 2023
Information and Bookings: www.hayestheatre.com.au
Image: Kiana Daniele, Leon Ford, Nancye Hayes, Blazey Best and Jeremi Campese to star in A Little Night Music – photo by John McRae