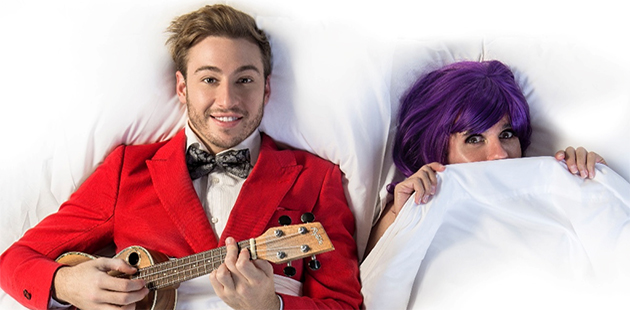 Continuing their commitment to mount productions of new and reimagined musicals, Hayes Theatre Co has announced Act Two of their 2017 Season that includes an Olympic Champion, the most controversial musical of the 20th Century, a cult classic film come musical, and the world premiere of a musical about one of Australia's greatest ever opera stars.
Olympic Champion and cabaret star Matthew Mitcham returns to Sydney with his latest show Under the Covers for 5 performances in July; Hayes Theatre Co presents the world premiere of MELBA: A new musical by Nicholas Christo and Johannes Luebbers from 11 August, followed by Stephen Sondheim and John Weidman's Assassins, starring David Campbell amongst a stellar cast from 15 September. The year will finish with High Fidelity starring Toby Francis, who is currently starring as Charlie in Kinky Boots, from 18 November.
Matthew Mitcham burst onto the cabaret scene in 2014 with the refreshingly real, multi-award-winning musical comedy, Twists and Turns. He now returns with even more effervescence, charm and hilariously-brutal honesty, plus a few new tricks stuffed up his bulging sleeves in Under the Covers.
Matthew has become renowned for his unique approach to storytelling that is both raw and compelling. Accompanied by cross-dressing cabaret legend Spanky, this brand new all singing, all dancing production from the same team (Nigel Turner-Carroll and Spanky – aka Rhys Morgan) who created Matthew's previous multi-award-winning musical comedy Twists and Turns – Under the Covers will make audiences feel better about their own life choices in perfect three-part harmony.
Dame Nellie Melba was the most celebrated singer of her generation. Lauded on more than three continents as a phenomenon, her life was the stuff that dreams are made of, but her journey to the top was not always untroubled. From humble beginnings as Nellie Mitchell in Melbourne, to the stages of opera houses across Europe, MELBA charts the life of a woman who was determined to be the best in a conservative world.
Adapted from the biography Marvelous Melba by Ann Blainey, with book and lyrics by Nicholas Christo and a contemporary score by Johannes Luebbers, MELBA blends music theatre with opera in a musical about one of Australia's greatest ever stars.
Hayes Theatre Co and New Musicals Australia are thrilled to present this new Australian work, which was previously developed as part of the New Musicals Australia program. Directed by internationally acclaimed director, Wayne Harrison with musical direction by Michael Tyack, MELBA stars one of Australia's most popular opera stars, Emma Matthews as Dame Nellie Melba.
Since opening the doors in 2014, Hayes Theatre Co has been anxious to present a Stephen Sondheim musical. Considered to be the most controversial musical of the 20th Century, Stephen Sondheim and John Weidman's Assassins is a chilling, and timely reminder that those in power ignore the poor and disenfranchised to their peril.
In a fairground shooting gallery a group of misfits gather. Each has a problem they need to solve and each has discovered the answer – they must shoot the President of the United States! From John Wilkes Booth to Lee Harvey Oswald, we learn of the many varied and unusual ways that each has committed (or attempted to commit) the ultimate crime; their motivations and their desire to be recognized for their actions in a world where they are largely dismissed and ignored.
Making a welcome return to the Hayes Theatre Co will be director Dean Bryant – whose previous productions of Sweet Charity and Little Shop of Horrors were critically and popularly acclaimed and went on to tour throughout Australia. Joining Dean are musical directors Lucy Bermingham (Songs For a New World, Violet) and Andrew Worboys (Little Shop of Horrors, Rent, Sweet Charity). The cast includes David Campbell as John Wilkes Booth, who will be joined by Hannah Fredericksen, Connor Crawford, Martin Crewes and Madeleine Jones, with more exciting casting announcements to be announced soon.
It's the classic man-boy meets girl, man-boy loses girl, man-boy needs to ditch the 'boy' part of 'man-boy' before it's too late kind of story. You know, the kind of story Alanis Morrissette writes really good songs about. Or used to anyway. Based on the book by Nick Hornby and the movie starring John Cusack, Neil Gooding Productions (Sweet Charity, Dogfight) and Highway Run Productions (Rent), presents the cult classic musical, High Fidelity.
Featuring an original score with music by Tom Kitt – before he sold-out and won the Pulitzer Prize for Next to Normal – High Fidelity tells the story of life and vinyl while skillfully evoking the sounds and styles of the greatest artists a record store can offer: artists like Bruce Springsteen, Aretha Franklin, U2, The Beatles, Heart, Pat Benatar, Guns 'n' Roses, Ben Folds, The Beastie Boys, Dr. Dre and Marvin Gaye.
Directed by Neil Gooding and choreography by Cameron Mitchell, Toby Francis, who is currently touring the country as Charlie Price in the smash-hit musical Kinky Boots, will star as the protagonist, Rob Gordon in the sweetest, most underrated musical this side of whatever the opposite of Cats is.
All shows are now on sale. For more information, visit: www.hayestheatre.com.au for details.
Image: Matthew Mitcham and Spanky return to Sydney in Under the Covers (supplied)