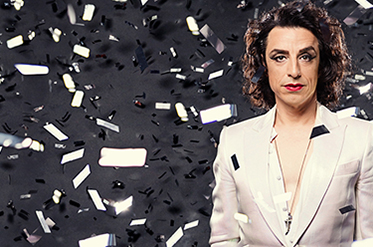 For music theatre fans, Hats Off! has long been a highlight of the Mardi Gras festival and Sydney's entertainment calendar. Now in its 17th year, the annual variety concert features a line up of 'legends' from the Australian entertainment industry to raise funds for the fight against HIV and AIDS.
In 2014, Hats Off! to the Legends honors artists and entertainers, both past and present, whose contribution to the world of theatre and music continues to inspire. Join us for this special evening as Doyennes, Divas and Rock Stars raise money, raise awareness and raise the roof.
Hosted by Chloe Dallimore and Tom Sharah, Hats Off! will feature Ambassador Paul Capsis, and a sensational line-up of talent including Trevor Ashley, Danielle Barnes, Prada Clutch, Michael Cormick, Jacqui Dark, Euan Doidge, Margi de Ferranti, Matt Hetherington, Luke Kennedy, Laura Murphy, Roshani Priddis, Garry Scale, Flip Simmons, and Queenie van de Zandt.
The evening will also feature special performances by cast members from New Theatre's production of Privates on Parade and Disney's The Lion King.
Hats Off! to the Legends is presented by Oz Showbiz Cares / Equity Fights AIDS Inc, with all proceeds supporting ACON and the Bobby Goldsmith Foundation.
Hats Off! to the Legends
York Theatre – Seymour Centre, Cleveland St
Performance: Monday 17 February 2014 – 8.00pm
Bookings: (02) 9351 7940 or online at: www.seymourcentre.com
For more information, visit: www.seymourcentre.com for details.
Image: Paul Capsis by Blueprint Studios