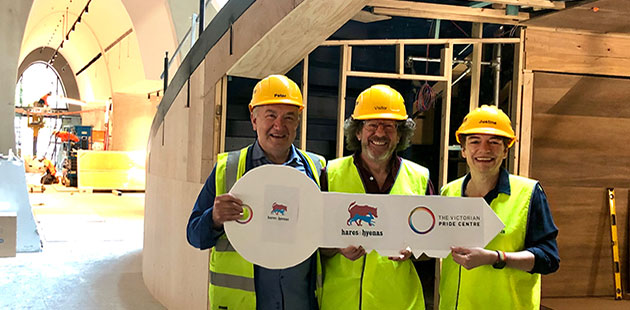 Melbourne's much loved and only LGBTIQA+ bookshop, Hares & Hyenas, is moving to the Victorian Pride Centre.
Today, on the 14th anniversary of Hares & Hyenas opening their current Fitzroy, location, the iconic business has announced it is spanning the river once again to take up tenancy at the Pride Centre, opening in early 2021.
St Kilda locals are over the moon to have a bookshop opening in the neighbourhood. Hares & Hyenas Fitzroy will continue to operate as a performance venue and community hub but with bookshop elements as well. This is a momentous decision for owners Rowland and Crusader, who together have run the bookshop for 29 years.
"Working with the Pride Centre to get us to this point has been nothing short of inspirational," said Rowland Thomson, founder Hares & Hyenas. The board and staff have met with us every week for months to ensure that not only will Hares & Hyenas find a home in St Kilda, it will also be ready to embark on the next stage of its carefully planned journey."
"Being in the midst of queer community activity in that beautiful bespoke building is going to help us achieve our aim of being a multi-generational landmark enterprise – a fixture in our community and Victoria," added Crusader Hillis, founder Hares & Hyenas.
Hares & Hyenas is a community institution, starting its story on Commercial Road in 1991. In the gay heyday of the 1990s, between 1993 and 1999 the business had a northside outlet, first in Fitzroy and then in Collingwood. In 1999 they consolidated their business on Commercial Road while searching for larger premises with space for events.
In 2006 they moved to Johnston Street, Fitzroy, where they opened a café and a licensed performance venue, popularly known as the Harehole, which has been home to over 1500 events.
In April 2021 Hares & Hyenas is presenting Generation, a festival of arts and ideas that will celebrate 29 years of queer performance and will look boldly at the future. The festival will be based in the Fitzroy venue with highlights at the Pride Centre.
"Hares & Hyenas is a much-loved LGBTIQ+ institution who have promoted debate and understanding across ours and the broader community," said VPC Board Chair Jude Munro. "We are thrilled that they are going to make the Pride Centre their south of the river home."
The Pride Centre will be a vibrant hub of culture and collaboration with the likes of Melbourne Queer Film Festival, Australian Lesbian and Gay Archives, the Australian GLBTI Multicultural Council and JOY 94.9 relocating to the space. This beacon of hope will be located on Fitzroy St, St Kilda, reactivating one of Melbourne's oldest rainbow neighbourhoods.
---
For more information about the Victorian Pride Centre, visit: www.pridecentre.org.au for details.
Image: Peter McEwan (VPC Board), Rowland Thomson (Hares & Hyenas) and Justine Dalla Riva (VPC CEO) – courtesy of Victorian Pride Centre
Source: www.pridecentre.org.au