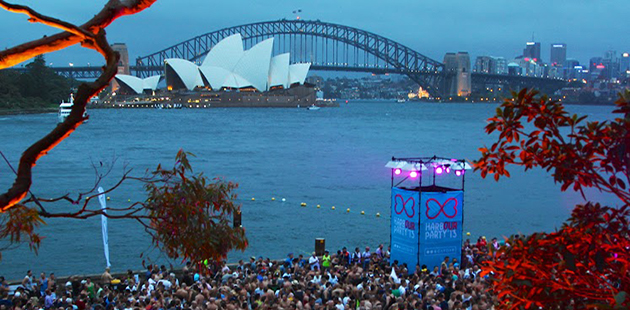 Nestled in the heart of the lush Royal Botanic Gardens, accompanied by spectacular harbour views, Sydney Gay and Lesbian Mardi Gras' Harbour Party is returning on Saturday 28th February 2015 with a high energy line-up, enhanced venue set up and a hot new ticket price!
The mouth-watering lineup – announced today – includes remix specialist Bimbo Jones fronted by Lee Dagger (UK), DJ Kitty Glitter (Australia), who set tongues wagging in her Mardi Gras Party set earlier this year, the hands-in-the-air anthems of DJ Dan Murphy (Australia), and DJ Du Jour (Australia). And with this announcement, Harbour Party is only just getting started….
Harbour Party is a friendly, inclusive, uplifting, boutique dance-party for LGBTQI and their friends. Sydney Gay and Lesbian Mardi Gras CEO, Michael Rolik, says the team have listened to feedback from their passionate party-goers and are ready to deliver.
"The line-up speaks for itself. We've repositioned the stage to maximize the view of the stunning harbour and make sure no sound gets lost in the crowd," says Rolik. "Mardi Gras is a busy time of year for the community and we want Harbour Party to be accessible to everyone so we've introduced a more affordable ticketing structure."
"Harbour Party is a truly spectacular annual event for us, and we've worked hard to ensure that the 2015 edition will be the best ever."
Diverse, sexy and bursting with energy, there are few parties quite like the Harbour Party, set alongside the most beautiful harbour in the world. Sip cocktails in the new cocktail bar as the sun sets, as the lights shimmer over the water, then dance the night away in the open-air setting with 3,000 of your new best friends.
Don't miss out on this joyous, loud and proud, hands in the air affair. First release tickets are on sale now for just $69.00 – but tickets at that price won't last.
Harbour Party '15
Fleet Steps – Mrs Macquarie's Point, Sydney
Event: Saturday 28 February 2015 – from 3.00pm
Bookings: www.mardigras.org.au
For more information, visit: www.mardigra.org.au for details.
Image: courtesy of Sydney Gay and Lesbian Mardi Gras