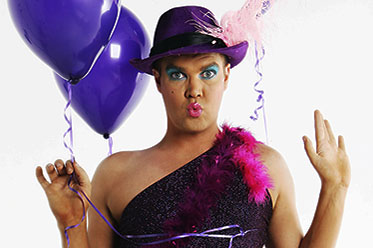 The hit sell-out show of the Adelaide Cabaret Festival hits Melbourne for 2 shows only at the GH Hotel.
Join International Superstar Hans, his band The Ungrateful Bastards and dancers The Lucky Bitches for an evening of hotpants, feathers and accordions.
Already a star in his native Berlin, Hans made the heartbreaking (and tax-dodging decision) to leave Germany and set up home in what is often described as the cultural and entertainment capital of the western world… Adelaide, South Australia.
Famed for his fabulous performances Hans' unique brand of cabaret has won high profile fans including Princess Mary, Naomi Campbell, Miranda Kerr, P!nk and political heavyweights from all sides of the spectrum.
It seems everyone is dying to be on his good side. Hans is also a red carpet regular, greeting the stars with a microphone and an acid tongue at every A-List event… well, the important ones anyway.
With more eyeliner that Cleopatra and more drama than an episode of the Real Housewives, Hans will make you feel Like A German as well. Hold on to your boyfriend and sit in the front row…he dares you!
"We may never see a shinier, slicker, sequinier show than this" – The Advertiser.
Hans – Like A German
GH Hotel, 1 Brighton Road, St. Kilda
Season: 11 & 12 April 2014 – 7.30pm
Bookings: www.moshtix.com.au
For more information, visit: www.hanofficial.com for details.
Image: Hans