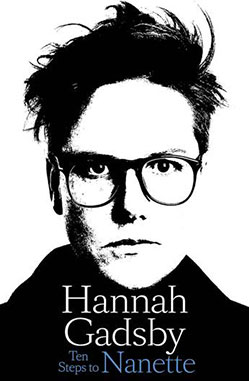 The memoir from Australia's much-loved comedian, Hannah Gadsby, whose stand-up show and self-described swan-song, Nanette, played to sold-out houses in Australia, the UK and the US.
Its launch on Netflix, and subsequent Emmy and Peabody wins, took Nanette (and Hannah) to the world.
Multi-award winning Hannah Gadsby transformed comedy with her show Nanette, even as she declared that she was quitting stand-up.
Now, she takes us through the defining moments in her life that led to the creation of Nanette and her powerful decision to tell the truth – no matter the cost.
"There is nothing stronger than a broken woman who has rebuilt herself." – Hannah Gadsby, Nanette.
Gadsby's unique stand-up special Nanette was a viral success that left audiences captivated by her blistering honesty and her ability to create both tension and laughter in a single moment.
But while her worldwide fame might have looked like an overnight sensation, her path from open mic to the global stage was hard-fought and anything but linear.
Ten Steps to Nanette traces Gadsby's growth as a queer person from Tasmania – where homosexuality was illegal until 1997 – to her ever-evolving relationship with comedy, to her struggle with late-in-life diagnoses of autism and ADHD, and finally to the backbone of Nanette – the renouncement of self-deprecation, the rejection of misogyny, and the moral significance of truth-telling.
Equal parts harrowing and hilarious, Ten Steps to Nanette continues Gadsby's tradition of confounding expectations and norms, properly introducing us to one of the most explosive, formative voices of our time.
"I could not be more excited to be publishing the iconic Hannah Gadsby," said Kelly Fagan, Publisher at Allen & Unwin. "The world has been looking forward to this book for a long time, and it does not disappoint!"
"Ten Steps to Nanette is deeply personal, astutely observed, sometimes devastating but frequently hysterically funny. Just like the show after which this book is named, Gadsby hits every emotional beat."
Tasmania's own Hannah Gadsby stopped stand-up comedy in its tracks with her multi-award winning show, Nanette, which played to sold out houses in Australia, the UK and the US. Its launch on Netflix, and subsequent Emmy and Peabody wins, took Nanette (and Hannah) to the world.
Hannah's difficult second album (which was also her eleventh solo show) was named Douglas after her dog. Hannah walked Douglas around the world, selling out the Royal Festival Hall in London, the Opera House in Sydney and the Kennedy Center in DC, as well as a sit-down run in New York and shows across the US, Europe, Australia and New Zealand.
Douglas was an Emmy-nominated smash hit, moving beyond the trauma at the centre of Nanette and instead letting the world experience the view from Hannah's brain – one that sees the world differently but with breathtaking clarity.
The show covered Hannah's autism diagnosis, cleared up some confusion regarding a penguin, lectured some great masters, and saw the patriarchy needled with various levels of vigour. Douglas is available throughout the world on Netflix, recorded in Los Angeles.
Hannah has done plenty of other things over the course of more than a decade in comedy, but that will do for now. She is currently in the middle of her Body of Work tour, which saw Hannah finishing 2021 on stage at the Sydney Opera House, before heading to Europe, the UK and the US. Hannah will return to Australia and New Zealand in the spring.
"Hannah is a Promethean force, a revolutionary talent … This hilarious, touching, and sometimes tragic book is all about where her fires were lit." – Emma Thompson
---
Ten Steps to Nanette is published by Allen & Unwin and available from all leading book retailers including Booktopia.
Image: Ten Steps to Nanette – courtesy of Allen & Unwin