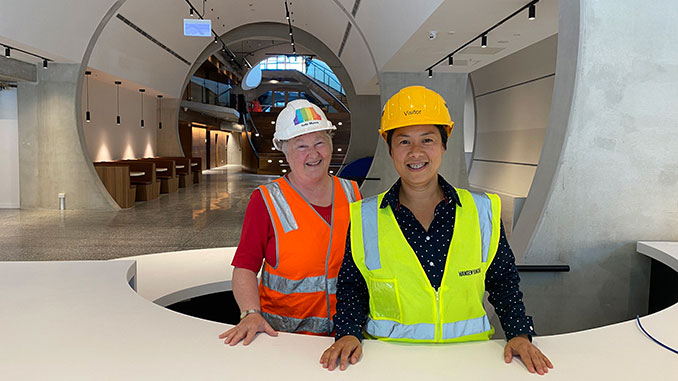 As part of the transition from a building to a community home, the Victorian Pride Centre Board have recently recruited new members and Board Directors. That process includes the election of a new Board Chair, Hang Vo.  Hang, the Board Chair elect will take over from the Inaugural Chair, Jude Munro AO.
"To be a part of a highly talented Victorian Pride Centre board is a privilege, and to be appointed as incoming chair is incredibly humbling," said VPC Board Chair Elect Hang Vo. "I am honoured to stand on the shoulders of founding chair Jude Munro, who has laid strong foundations from which we will keep building to commemorate and celebrate all that is LGBTIQ+."
"I strive to continue her passionate leadership without which we would not be where we are today.  I look forward to growing my relationship with our rainbow community and allies."
Hang is currently the CEO of Whitelion Youth Services and has over 20 years' experience in the not-for-profit sector. Having come to Australia as a part of the Vietnamese refugee 'boat people' in the late 1970s and being a member of the LGBTIQ+ community herself, Hang has first-hand experience of dislocation and exclusion which drives her deep commitment to creating a more just, inclusive and equitable society.
Current Board Chair, Jude Munro AO, will step down from her position after the May board meeting and Centre opening, this will offer a robust transition period for Hang incoming.
Jude has been on the board since the Victorian Pride Centre's inception in October 2016 and has been instrumental in leading the organisation to where it is today. From the beginning Jude indicated once the Pride Centre was built, she'd pass the baton.
"Hang Vo will make a wonderful Board Chair to lead the Victorian Pride Centre to its next exciting change as a home that will be open for performances, celebration and services for our LGBTIQ+ community," said VPC Inaugural Board Chair Jude Munro AO.
"Hang has an impressive set of leadership and governance skills and will be a great support and mentor for our CEO Justine Dalla Riva. I look forward to handing over the baton in May."
---
The Victorian Pride Centre will be a safe haven for LGBTIQ+ peoples, their families, friends and allies to socialise, volunteer, work and network, advocate, innovate and participate with access to essential and affirming services. For more information, visit: www.pridecentre.org.au for details.
Image: Jude Munro AO and Hang Vo in the Pride Centre – photo by Renee Thompson