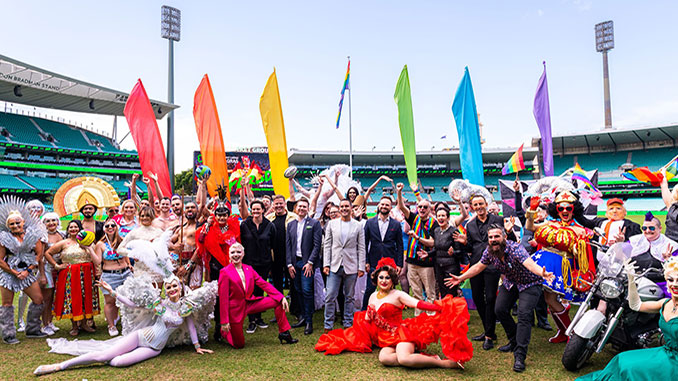 With only a day to go until the once-in-a-lifetime stadium-filling Mardi Gras Parade on Saturday 6 March, here's a little sneak peek at the 'Bloom and Rise' show that'll pop up and take centre stage.
Celebrating new life, growth and hope, the Parade and Show cherishes our big, beautiful, colourful communities. The 'Bloom and Rise' Parade group will include legends from the Mardi Gras community – Ramon Doringo, Coco Jumbo, Jude Bowler, Mademoiselle Coco, Peta Friend and Mitch Westwood – with an energetic cast of Mardi Gras Community Performers and supported by Deaf Society and Deaf Services. Costume design by Lelash, Choreography/Concept by Virginia Ferris and Music mix by Pipi Le Oui (Peewee Ferris).
The gates to the Sydney Cricket Ground will open at 4.00pm – with pre-show hosts Bob Downe and Julie McCrossin plus DJs Kitty Glitter and Dan Murphy to keep you entertained until the Parade starts at 6.00pm with a very special Welcome to Country curated by Ben Graetz featuring John Leha, singer/songwriter Scott Hunter, plus Koomurri dancers, NAISDA dancers, and Buuja Butterfly dancers.
The Dykes on Bikes' engines will roar, heralding the beginning of the astonishing procession. As always, the First Nations Aboriginal and Torres Strait Islander LGBTQ+ community is the first group, followed by our pioneers the 78ers – the original Mardi Gras Paraders who this year are celebrating '50 Years of Visibility' by highlighting key events from 1969, 1970 and 1971.
Without vehicles in the Parade this year, there will be a strong emphasis on elaborate costumes, outrageous props, satirical puppetry and creative works carried by the 5,000 participants from 120 groups.
The full list of Parade groups includes Rainbow Families, Queer Roller Derby, Extinction Rebellion, Australian Asexuals, Bi+ Visibility, Deaf Rainbow NSW, Sex Workers and Community, Wear it Purple, Haka for Life, Human Rights Watch Australia, Lifesavers with Pride, Parents for Trans Youth Equity and many more – see the full alphabetical list here!
Further entertainment on the night will include chart-topping pop star Rita Ora, soulful electronic duo Electric Fields, ARIA Award-winning art-pop songwriter Montaigne, and indie pop darling G Flip presented by TikTok.
Ticketholders are encouraged to plan their trip to and from the Parade before heading out to the SCG on Saturday. Public transport will be busy while services run at COVID-Safe capacities, so consider walking from Central, catching ride share or taxis or carpooling with your group and parking nearby. If you have to catch public transport, or shared transport, please wear a mask.
If you can't be at the SCG, broadcast partner SBS will be showing the Parade from 7:30pm – or from 6.00pm AEST via SBS On Demand – which will be free to view from anywhere in the world.
The 2021 Mardi Gras Parade takes place at the Sydney Cricket Ground (SCG) on Saturday 6 March. For more information, visit: www.mardigras.org.au for details.
Image: The 2021 Launch at the Sydney Cricket Ground (SCG) – courtesy of Sydney Gay and Lesbian Mardi Gras