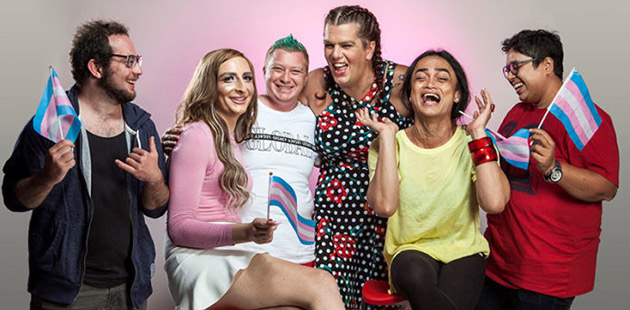 ACON's digital information and resource platform for trans and gender diverse people, TransHub, has been announced as one of the winners of Australia's peak international design awards, the Good Design Awards – the highest honour for design and innovation in the country.
TransHub received a prestigious Good Design Award Gold Accolade in the Digital Design Web Design and Development category in recognition for outstanding design and innovation.
Held during the 2020 Good Design Week, the annual awards are Australia's oldest and most prestigious international accolades for design and innovation. Commenting on the award, ACON's Manager for Trans & Gender Diverse Health Equity Teddy Cook said that the recognition was important for the trans community.
"TransHub is a peer-led platform that has been written by trans people of all genders, for trans people of all genders, in order to support, value and celebrate the lives of our community," said Cook, who led on TransHub's development."
"Trans people have long been, and continue to be, the targets of violence and attempts to delegitimise and deny our existence. For TransHub to receive such national and international recognition is truly heartening, but also hopefully indicates that a shift is occurring in how trans people and services designed to support and affirm our health and wellbeing, are being taken more seriously."
The Awards celebrate the best new products and services on the Australian market, excellence in architectural design, engineering, fashion, digital and communication design, design strategy, social impact design and young designers.
"This is a comprehensive, community- led design resource packed with useful information for its audience – trans community, allies and health professionals," said The Good Design Awards Jury. "It is well designed by an entirely trans-led team and is unique in Australia in its peer-designed, produced and reviewed content."
"Great classification and sectioning of content, great copywriting, voice and tone, with illustrations that are sensitively done. Congratulations."
ACON CEO Nicolas Parkhill said that the award reinforced the significance of the resource, and ACON's broader work in improving the health outcomes of trans people: "This ground-breaking platform gives trans people, their supporters and allies the tools and information needed to help support, nurture and affirm their wellbeing."
"We are proud to receive this award and to continue our work with our communities in strengthening the health of trans people," said Parkhill.
Cook added: "In creating TransHub, it was important to us that we collaborated with as many different trans people as possible and have proudly consulted, created opportunities for, commissioned and supported hundreds of community members to bring TransHub to life."
"We thank everyone our team partnered with, from community members, leading specialist organisations, clinicians and allies, for their dedication and passion in seeing TransHub become a life-saving resource for all trans people. The website and this award would not have been possible without them."
---
For more information about TransHub, visit: www.transhub.org.au for details.
Image: TransHub – courtesy of ACON