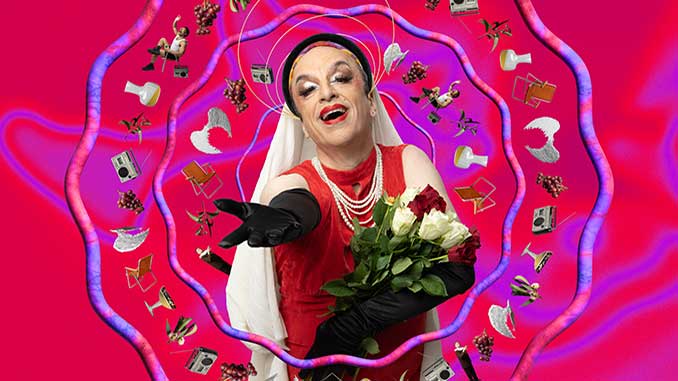 Griffin Theatre Company has unveiled its 2024 Season – including the monumental production of Louis Nowra's The Lewis Trilogy, marking the final production to be staged at the iconic SBW Stables Theatre before it undergoes major redevelopment works.
Spanning across five decades in changing Australia, Griffin's sentimental production of The Lewis Trilogy chronicles the arc of Lewis' life as he ages from a teenage boy to a young man to a local veteran of Kings Cross.
As the sun sets on Lewis' journey, audiences will leave the cosy historic home of Griffin for the last time – seeing Kings Cross in a different light.
The remainder of the 2024 season has something for everyone including an exclusive season of the delicate performance poem swim presented at Carriageworks – a Queer pop spectacular in collaboration with Hayes Theatre Co, and two special return seasons.
"We're wishing a sweet (temporary) goodbye to the SBW Stables in 2024 – but we're looking at this as an opportunity to create theatre in ways we've never dreamed before, with our mates at Carriageworks, The Hayes Theatre Co, Sydney Theatre Company, and beyond," said Artistic Director, Declan Greene.
"Oh, and before we hit the road, we're casually doing the biggest show in Griffin's history – the first ever production of Louis Nowra's entire Lewis Trilogy… All 5 hours of it. It's gonna be a hell of a year," said Greene.
Subscription Packages for Griffin Theatre Company's 2024 Season are now available, visit: www.griffintheatre.com.au for details.
Image: Paul Capsis stars in The Lewis Trilogy by Louis Nowra – photo by Brett Boardman | Creative Direction – Susu Studio
---
Griffin Theatre Company's 2024 Season:
The Lewis Trilogy
9 February – 21 April
One of Australia's most legendary dramatists, Louis Nowra is synonymous with the beating heart of Kings Cross. It's only fitting, then, that Griffin bids a temporary farewell to its home at the SBW Stables Theatre as we know it by staging The Lewis Trilogy – Nowra's colourful portrait of a life well lived.
Three plays. One ensemble. Ten glorious weeks. With an ensemble of eight of Sydney's favourite actors including the great Paul Capsis (Angela's Kitchen), Griffin's Artistic Director Declan Greene stages three of Nowra's most iconic plays (Summer of the Aliens, Cosi, This Much is True) like you've never seen them before – bursting the seams of the SBW Stables Theatre with love, loss and glorious Australiana.
Choose to watch all three plays on separate nights or enjoy a magical full-day experience – The Lewis Trilogy is a special event of epic proportions that is not to be missed. What better way to celebrate the Stables' Darlinghurst legacy before the theatre undergoes its major redevelopment?
swim
10 – 27 July
Sizzling hot concrete. Rainbow towels on half-dead grass. On a hot summer's day, bodies of all shapes, colours, and sizes journey to the public pool longing to do one thing… swim. Mununjali poet Ellen van Neerven is one of Australia's finest and most awarded writers (Throat, Heat and Light). Swim is their debut work for the stage.
Genderfluid protagonist E negotiates the space between the men's and women's change rooms. They flex in front of the cute pool attendant. As they step onto the diving blocks, the words of their Aunty come to them – and suddenly, the crystalline blue tiles give way too much deeper water.
Swim is delicate and tough, honest, and achingly beautiful – and its muses on everything from the sovereignty of water to gender identity and the binding strength of culture and family.
Flat Earthers: The Musical
11 October – 9 November
Somewhere on the fringes of the internet, Ria e-meets Flick and instantly falls in analogue love… until Ria learns with horror that Flick is a Flat Earther. And Flick learns with equal horror that Ria is a Globe Earther.
Cue: a beautiful and chaotic musical epic that sees our star-cross'd lesbians plunge into the Dark Web and down YouTube rabbit holes to explore the one thing they know is real—their connection. But faced with malicious algorithms and a secret cabal (Illuminati confirmed), even Ria and Flick might not be able to Command+69 their way out of this one.
Flat Earthers: The Musical smashes irresistible bangers with iconic conspiracies to ask: can you really find common ground with someone who does not believe in the same ground?
Special Extras:
Jailbaby 
4 – 21 January
After a sell-out season and due to astronomical audience demand, Griffin is thrilled to announce the return of Suzie Miller's Jailbaby for a highly limited season to kick off 2024. Performers Lucia Mastrantone, Anthony Taufa and Anthony Yangoyan are reunited with director Andrea James for this crucial interrogation of Australia's legal system by multi-award-winning playwriting powerhouse Suzie Miller. A spiritual sequel to her international phenomenon Prima Facie, Miller once again opens our eyes to the darkest corners of society and asks us to pinpoint the exact moment when it all goes so, so wrong.
Golden Blood
13 September – 30 November
After a smash-hit premiere at the SBW Stables Theatre, Merlynn Tong's Golden Blood is back and hungrier than ever in 2024 – presented by Sydney Theatre Company and Melbourne Theatre Company.
Golden Blood feels like a big-screen thriller, even though it's got a cast of two. Playing out on the neon streets of Singapore, it desperately claws back the extreme wealth it once knew, holding a rusty machete between its teeth.
When her mother dies, a teenage girl is left alone within the four walls of the only thing she's inherited – a decaying penthouse in the heart of Singapore. To make matters worse, she's now in the care of her estranged brother, and he's not exactly up to the gig. For one, he's only a few years older than her. And two, he's a gangster.  Like, an actual one.
Left with next to nothing, the orphaned siblings become a formidable, atypical corporation of two. But it's not long before cracks begin to show. What is the trade-off for desiring excessive levels of luxury? What should be kept in this world, and what should be offered to the next?