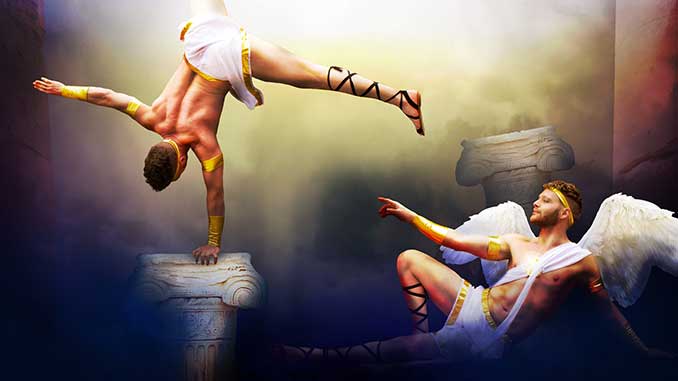 Time to get Greeced up again! Back from sell-out international and national tours, Winner of the 2022 Melbourne Fringe People's Choice Award, Head First Acrobats presents GODZ in The Vault – Festival Park, this October.
Appearing one last time as a part of the Melbourne Fringe Festival, don't miss the chance to join Cupid (the God of Love), Hercules (the God of Strength) and Dionysus (the God of Wine) as they paint Ancient Greece red and bring you to the biggest party to hit Mount Olympus since 500 BCE.
This adults-only, jaw-dropping offering from the Head First Acrobats boys sees their unique mix of storytelling, circus, and physical prowess swell to godlike proportions. Expect a bodyssey of gravity-defying stunts, true tests of heroic strength and muscularity, and surprise comic twists.
Renowned for being incredibly cheeky and highly provocative, Head First Acrobats leave nothing behind in this knock-out five-star season. Based in Melbourne, they are regulars on the international touring circuit and are a multi-award-winning entertainment company and with an undisputed talent for developing shows that fast become the talk of the town.
The multi-award winning GODZ is a must-see – last chance to catch them – you're gonna myth them when they're gone!
Creators: Head First Acrobats | Directors: Malia Walsh, Head First Acrobats | Performers: Thomas Gorham, Callan Harris, Jordan Twartz, Liam Dummer | Lighting Design: Nemo Gandossini Poirier
---
GODZ
The Vault – Festival Park, Queen Victoria Market, Melbourne
Season: 3 – 29 October 2023
Bookings: www.melbournefringe.com.au
For more information, visit: www.headfirstacrobats.com for details.
Image: Thomas Gorham – photo by Sofia Reinking | graphic design by Eiben O'Connor