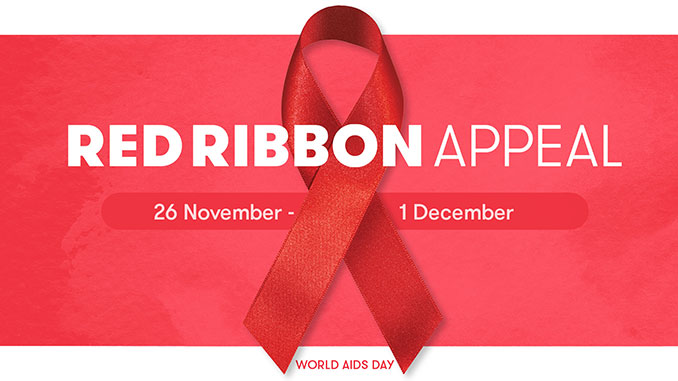 In the lead up to World AIDS Day, people and communities across NSW are being urged to get involved with the Red Ribbon Appeal to raise funds and awareness for initiatives that eliminate HIV stigma, end HIV transmissions and support people living with HIV. In 2021, Red Ribbon Appeal events and activities are being held in-person and virtually.
Organised by ACON, NSW's leading HIV health organisation, the Red Ribbon Appeal is an annual campaign that supports community-led initiatives in HIV prevention, education, care and support. It is held throughout November and culminates on World AIDS Day on 1 December.
ACON CEO Nicolas Parkhill said the Red Ribbon Appeal provides us with an important opportunity to raise awareness of the issues facing people living with HIV and show support for ongoing efforts to prevent new HIV transmissions and fight HIV stigma.
"Even during the midst of the COVID-19 pandemic, we cannot afford to become complacent or forget that HIV remains with us," said Parkhill. "We need to continue to bring attention to efforts that will end HIV transmission and reflect on where we have been."
"Though we have achieved so much in the fight against HIV, there is still a long way to. The Red Ribbon Appeal allows us to raise awareness and funds to continue this important work."
ACON is encouraging people and organisations across NSW to get involved with the appeal by hosting COVID-safe activities or events, either in-person or virtually.
"The Red Ribbon Appeal is ACON's most iconic and longest-running fundraising campaign," continued Parkhill. "Since its inception, thousands of people across NSW have united to come together to get behind the Red Ribbon Appeal.
"In 2020, the impacts of the COVID-19 pandemic on our fundraising activities caused a significant shortfall in funds raised from the appeal. Now that we're able to gather again in person, we're hopeful people will get behind this year's Red Ribbon Appeal and help us raise much-needed funds."
"For those who would still like the option of participating in the appeal online, we're providing our popular virtual initiatives from last year to make sure everyone can get involved, no matter where they are," said Parkhill
This year, supporters are encouraged to hold their events on Red Friday on Friday 26 November. By signing up on the Red Ribbon Appeal website, participants will get access to a range of resources and tools to help make their event a success. People can also purchase merchandise online, order Red Ribbon business boxes or register their interest to volunteer.
For those looking to mark World AIDS Day virtually, participants can dedicate a ribbon on the Virtual Red Ribbon Wall, download free trivia quizzes, custom Zoom backgrounds and pre-recorded Red Ribbon video messages.
"The red ribbon is one of the most iconic health symbols in the world," said Parkhill. "It is universally acknowledged as the symbol for HIV/AIDS awareness, support, solidarity and remembrance. Having the appeal accessible in-person and in online settings allows supporters to continue connecting with the campaign, wherever they are.
"So, join us this World AIDS Day, be part of the Red Ribbon Appeal and make an impact. Every contribution will help efforts to end HIV stigma, prevent new transmissions and support people living with HIV."
---
ACON's Red Ribbon Appeal runs throughout November. Red Friday is on Friday 26 November. World AIDS Day is on 1 December. Visit the Red Ribbon Appeal website here: www.redribbonappeal.org.au Download the free Red Friday host kit here! Dedicated a ribbon on the Virtual Red Ribbon Wall here: virtualredribbonorg.au
Image: Red Ribbon Appeal – courtesy of ACON