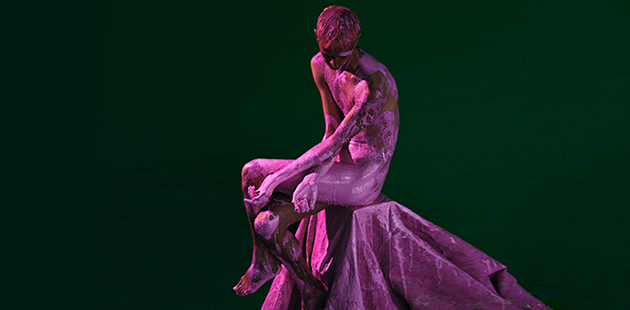 Presented in celebration of BalletLab's 20th anniversary year, the premiere of Glory will feature as part of Australia's biggest festival of contemporary dance, Dance Massive.
Glory evolved from movement experimentation to source material ranging from Bach's Brandenburg Concertito Hollywood TV sit-coms. Frenetic, intricate and relentlessly virtuosic dancing culminates in a revelation of the 'almighty' through a saturation of the colour pink, as Artistic Director, Phillip Adams channels artist Yves Klein's monochrome paintings.
A sequence of complex choreographic studies performed by four exceptional Melbourne dancers (Benjamin Hurley, Oliver Savariego, Rachael Wisby and Samuel Harnett-Welk) plays out in rapid, unrelenting irreverence, simultaneously amplifying and succumbing to the glorious intensity of Bach's music.
"With pace and complexity, drama, and a vision of gleaming attire, I'm angling a through-line of transformative choreography to Bach's compositions in relationship to conceptual notions of art," said Phillip Adams, Artistic Director. "Glory serves as a revelation about my work via the creative genesis of monotheism; a representation a God or God-like figure, defined as Pink."
The performance is heightened through costuming by ostentatious Melbourne art duo The Huxleys, and a collage of absurdist imagery in projected video by James Wright (NON Studio). Ben Cobham and Andrew Livingston (Bluebottle) return as lighting and set designers, having designed for Phillip Adams BalletLab's debut season of iconic masterwork Amplification in 1999.
Established in 1998, Phillip Adams BalletLab is an award-winning interdisciplinary dance company, celebrated nationally and internationally for diverse, provocative works. Led by seminal choreographer and 2018 Australia Council Award for Dance recipient Phillip Adams, the company continually extends the parameters of dance and visual art-based practice to produce bold artistic choreography and artworks.
Glory brings Dance Massive to South Melbourne for the first time, showing at the stunning performance and contemporary art space – Temperance Hall.
---
Glory
Temperance Hall, 199 Napier Street, South Melbourne
Season: 19 – 23 March 2019
Information and Bookings: www.dancemassive.com.au
Image: Georges Antoni (Art Direction by 3 Deep)