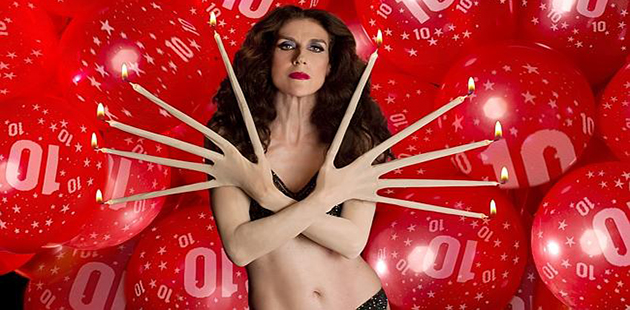 It's midwinter Melbourne and Finucane & Smith's Glory Box will crack open the 'Hit Parade Party' of the decade in the velvet lined Melba Spiegeltent – the very first show in Circus Oz' brand new home in downtown Collingwood for a limited season from 14 August.
The show that kicked burlesque and cabaret out of the park, the Glory Box stormed the barricades of high art, low art and the wildly popular; and according to UK critics, 'changes the game'. It has been called a 'revolution in a chocolate box', 'sublime', 'sumptuous', 'demented' and 'dangerous uber-lesque' in twelve languages; won eight international theatre awards; and has had over 300,000 people across five continents in multi-lingual raptures, turns ten!
The original 'unholy trinity of fatale feministas' – Moira Finucane, Yumi Umiumare, and Azaria Universe will reunite with a galaxy of guest stars drawn from a decade of divine intervention, strutting down the catwalk of provocation to party like there is no tomorrow.
Ten years ago Moira Finucane and Jackie Smith defied prevailing opinion that their work was 'too much' and that 'audiences aren't ready for it', and, on the smell of an oily rag, turned rain into steam during midwinter Melbourne of 2004 with their genre-defying Salon mix of the surreal, the epic, the gender-bending, stereotype-trashing, bodice-ripping and the super-sordid.
Now after five star reviews in Argentina, standing room only in Tokyo, annual love-ins in Melbourne, three seasons at the Sydney Opera House; pulling off the longest tour of variety around Australia since the gold rush, standing ovations in Italy; and literally stopping traffic in the streets in Sao Paulo Brazil in their first outdoor spectacular for ten thousand people – it's time for Melbourne's hottest export to celebrate!
Led by Moira Finucane, the rock goddess of live art, the woman whose been described as David Lynch's ideal of vaudeville, as 'La Diosa' in Buenos Aires, 'Mistress of Grande Guignol' in Paris, and 'Fantastically Indecent' in Tokyo; with Burlesque Siren Azaria Universe polishing up her infamous pearls; and Yumi Umiumare bringing her wild butoh goddess down from the mountains; and an ever changing galaxy of guests Glory Box will be a tour de force of dangerous dames, demented music and drinks at the bar!
Ten years, ten nights only, one hundred exotic acts, special requests taken, guests flying in from Paris to the Pilbara – it's going to be the party season you never recover from.
"From the sublime to subversive, the hot to the hilarious, … outrageous and unforgettable" – The Times, London
Glory Box: Tenth Anniversary Season
The Melba Spiegeltent at Circus Oz, 35 Johnston Street, Collingwood
Season: 14 – 24 August 2014
For more information and bookings, visit: www.moirafinucane.com for details.
Image: Moira Finucane – photo by Jodie Hutchinson