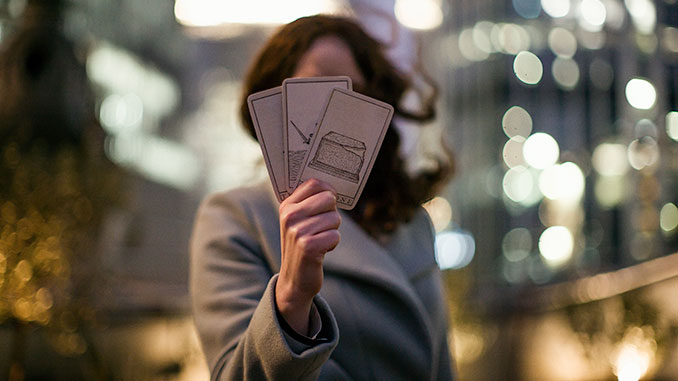 Praised by The Guardian and New York Times, this site-specific online thriller from multi-award-winning entertainment company, Swamp Motel, boldly reimagines the at-home-adventure experience for those who have grown tired of Netflix and badly-run Tuesday night trivia.
Arriving at a moment when both nations are in the throes of lockdowns, the three-part series – which features Plymouth Point, The Mermaid's Tongue and The Kindling Hour – intuitively blends theatre, film, and gaming to create a very real (and very rare) shared live experience, no matter where you are. This is a home entertainment like you've never experienced.
Interactive and episodic, Isklander seamlessly blurs fiction and reality, harnessing the internet as a platform for site specific sleuthing, whilst combining the artistry of live immersive theatre with the thrill of an escape room. It's a new form and frontier for gaming interactivity.
Taking participation to the next level, audiences are turned into live protagonists, who must hack into emails, scrutinize social media posts, make phone calls, and inspect websites on a quest to unravel conspiracies lurking just under our noses.
Part puzzle game, part interactive movie, and part scavenger hunt, teams of up to six are tasked with solving a cryptic mystery – navigating a mix of live-action performances, newsreel footage, and fourth-wall breaking research – to investigate missing persons, murders, and clandestine conspiracies. Directed live by an in-character aid, each episode is an organic, real-time event with a ticking clock.
Renowned for their boundary-bending storytelling experiences, Swamp Motel is led by co-founders and creative directors, Ollie Jones and Clem Garritty, who have been collaborating for over a decade. The gritty first instalment of the trilogy was created in only six weeks as a response to the closures of entertainment and theatre spaces across the world in 2020.
Since then, the series has evolved, becoming cinematic in scope, with a blockbuster production value and high-profile actors such as Dominic Monaghan (Lord of the Rings, Lost), leading to the film and TV rights being optioned by Gaumont UK – the studio behind cult shows Lupin and Narcos.
"Swamp Motel's background came from immersive theatre, and what we really love is putting audiences at the centre of the story, plus we're all gamers at heart, so we wanted to make something that combined these two passions," said Swamp Motel co-founder Ollie Jones.
"With Isklander we created something that not only blurs the line between gaming and theatre, but also fantasy and reality. Isklander is a living, breathing video game, full of live operators, pre-recorded content, and plenty of player interaction."
"Fact and fiction become eerily intertwined in this one-of-a-kind experience and we can't wait for Australian and New Zealand audiences to experience it," said Jones.
"Their work is distinguished by a sharp sense of humour, exquisite eye for detail and general air of mischief. Plymouth Point has been constructed with consummate care and, although the detective story comes laden with some outlandish twists, it always feels convincing. For all the online trickery on display, this is first and foremost a cracking piece of storytelling." – The Guardian
A coup for audiences down under, the international smash hit that has enthralled and entangled legions of fans across the UK and USA, will launch in Australia and New Zealand on Thursday 23 September. For more information, visit: www.isklander.com for details.
Image: The Kindling Hour – photo by Matt Hass
---
The Isklander trilogy contains the following three games:
Plymouth Point – A Missing Person Hunt
Ivy Isklander has gone missing! As new members of the Plymouth Point Resident's watch, it's up to you to find this young woman. Enter a world of corporate deceit, occult horrors, and shadowy cabals as you put your sleuthing skills to the test. Search the internet for clues, solve puzzles, and crack codes to unravel the mystery of Ivy's disappearance. Can you find Ivy Isklander?
The Mermaid's Tongue – An Art Heist
Following the events of Plymouth Point, players must hunt down an ancient artefact: the Mermaid's Tongue. The source of a great power, it could spell certain doom should it fall into the wrong hands. Your investigation into its whereabouts will uncover a murky underworld hidden within high society and the shocking truth about shadowy forces hidden in plain sight.
The Kindling Hour – A Corporate Espionage Thriller
The epic conclusion of the Isklander trilogy sees players infiltrating the dark heart of a powerful organisation. Do you have what it takes to bring this sinister syndicate to its knees? Or will you wind up another cog in its twisted machine? Hack the system. Crack the codes. And find their weakness, before they find you. Starring Dominic Monaghan, Bathsheba Pipe and Dino Fetscher.