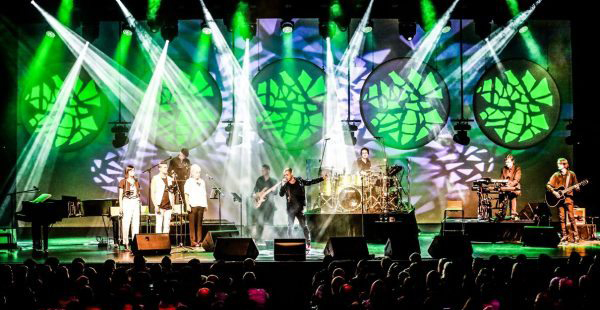 Now in its second year, the Gold Coast's Glitter Festival has become a nationally recognised arts festival that embraces and celebrates diversity, and encourages freedom of expression. It encompasses everything that is unique about the region and celebrates pride in an undefined way – a way that is distinctly Gold Coast.
The 2016 Glitter Festival offers an incredible program comprising of events, music, theatre, film and visual arts, containing an equal mix of earthy, raw and thought provoking content, juxtaposed by performances and events of total fabulousness! There truly is something for everyone!
Highlights of the 2016 Glitter Festival include: 
Anthony Callea makes his Glitter debut celebrating the songs of a pop music icon backed by a six-piece live band in Ladies & Gentlemen, The Songs of George Michael, while acclaimed performer Trevor Ashley returns with I'm Every Woman – transforming into the world's most legendary divas with the help of a smokin' band, a cavalcade of smash hit songs and one extremely hard-working wind machine.
A kaleidoscope of thought-provoking stories on coming out, eight actors playing 55 characters, in no less than 17 short plays, Wayne Tunks' 24 Ways to Say I'm Gay provides an honest, stimulating and perceptive look at what it means to be gay.
Magnetic North Theatre Company returns with their stellar show Cassandra and The Boy Doll. Cassandra is trans. She's transitioned, and now it's time to put away her 'boy doll'; her constructed male identity. Unfortunately, Cassandra is discovering that taking a scalpel to parts of your own identity is more difficult than expected.
The Glitter Gallery will feature two exhibitions of work. Tyza Stewart – Multi Face uses self-portraiture to disrupt gender normative readings of their own life, while The World Outside is a fascinating new project paying tribute to the history of queer culture and entertainment on the Gold Coast by delving into the stories of the pioneering artists who dared to challenge the status quo.
The performance may be over, but the night is young! Stay Up Late this festival and take a chance on the unexpected at the Glitter Club. A heady and eclectic mix of music, burlesque, DJ's, live performance and comedy. The ever-fabulous and always entertaining Art Simone & Philmah Bocks are your hosts, guiding you through this evening of danger, decadence and dancing. You never know what outrageous and intriguing things you'll discover!
The 2016 Glitter Festival continues to Sunday 9 October. For more information, visit: www.theartscentregc.com.au for details.
Image: Anthony Callea stars in Ladies & Gentlemen, the Songs of George Michael (supplied)