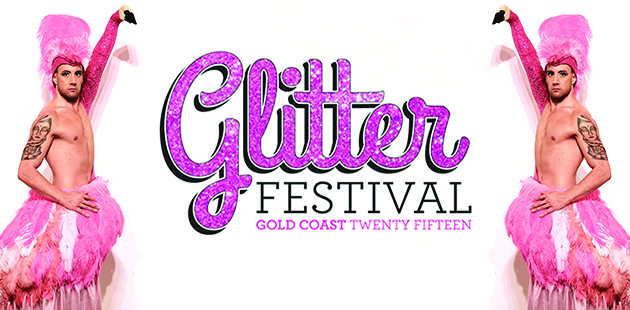 The Gold Coast's inaugural celebration of Lesbian, Gay, Bisexual, Transgender, Intersex, Queer, A-sexual, Pansexual+ community, the Glitter Festival –  begins on Monday and runs for an entire week.
In a first for The Arts Centre Gold Coast, Glitter will see programming undertaken in true festival style. Each day featuring sequential performances, allowing patrons to move easily from one show to the other – even taking their drinks with them or stopping to view curated art exhibitions along the way!
One of Glitter's ambitions is to provide the Gold Coast LGBTIQAP+ community and all Festival patrons, with a platform for social interaction in a fun and safe environment. Accessible to all are a number of free activities and events that allow people to connect, share, laugh and engage with one another.
Meet, Mix and Mingle at The Aviary
Wednesday 30 September – Saturday 3 October
The Arts Centre Terrace will be transformed into The Aviary. Featuring live music and entertainment each night from 5pm until late, it's the perfect place to grab something to eat between shows. Entry is free.
There's Something I Need To Tell You
Wednesday 30 September – Friday 2 October
Share your secrets, dreams, triumphs and stories inside the walls of The Parlour. Soak up the stunning panoramic views of the Surfers Paradise skyline, unwind and be inspired by great stories from our community and special guests. Hosted nightly by local entertainers, enjoy wine tastings networking and the odd sing-a-long or two! Something fun, meaningful and unique to add to your Glitter bucket list. Entry is free.
Glitter Festival Fair Day
Sunday 4 October
Set around the picturesque Evandale Lake and following immediately on from the inaugural Pride Run, Fair Day is the Gold Coast's biggest 'family reunion' of its kind! So bring your picnic blanket and enjoy a day packed full of outdoor activities, over 60 market stalls, food and beverage outlets, community stalls, youth zone for 15 – 25 year olds and much more. Finish the day with a screening of The Adventures of Priscilla, Queen of the Desert. Entry to Fair Day (including the outdoor movie screening) is free.
The Glitter Festival runs from Monday 28 September to Monday 5 October 2015. For more information and complete program, visit: www.theartscentregc.com.au/glitter for details.
Image: Glitter Festival Brand Ambassador, Greg Dunn will feature at The Aviary