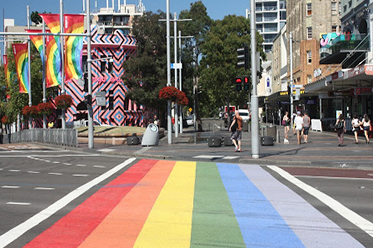 City of Sydney Lord Mayor, Clover Moore has called for the installation of a permanent public artwork in Taylor Square to mark the 40th anniversary of Mardi Gras in 2018.
"Sydney has the largest GLBTI community in Australia. A permanent symbol will celebrate their contribution to our city over the past 40 years and will say loud and clear that Sydney is a safe, inclusive city for everyone," says Clover Moore.
"I'll be asking City staff to start the planning, design and consultation for a major public artwork at Taylor Square in Oxford Street – the traditional heart of Sydney's GLBTI community.
"We all miss the magic crossing at Taylor Square. I want this symbol to bring as much colour and joy to Oxford Street as the crossing did. It should serve as a landmark, a destination, an icon and a meeting place."
"Something people will want to photograph and share with others. Most importantly it should celebrate what has been achieved and remind us how much there is still to do."
Sydney Gay and Lesbian Mardi Gras Co-Chair Paul Savage said "The Mardi Gras Parade and Festival are a powerful platform for Sydney's LGBTQI communities to express themselves through creativity, and we recently established a Workshop Fund to help us continue to support our communities in realising their vision."
"As we approach the 40th anniversary of Mardi Gras in 2018, we are delighted to hear that the Lord Mayor is proposing a major public artwork at Taylor Square as a symbol of respect and recognition to our LGBTQI communities."
Mardi Gras Co-Chair Siri Kommedahl added "We are incredibly proud of the contribution our lesbian, gay, bisexual, transgender, queer and intersex communities make to the cultural life of our city, and its reputation as one of the world's most inclusive and welcoming cities.
"It is fitting that a permanent tribute to Sydney's LGBTQI communities should take pride of place at Taylor Square."
The Lord Mayor made the announcement as part of a rainbow flag raising ceremony at Sydney Town Hall on Friday 7 February to mark the beginning of the 2014 Sydney Gay and Lesbian Mardi Gras.
It is the fifth year the international symbol of GLBTI pride has flown over the landmark civic building as part of the City Of Sydney's ongoing support for festival. The Lord Mayor will seek support for the plan from all City of Sydney Councillors at the first Council meeting of 2014.
The Lord Mayor said that since the removal of the rainbow crossing in Taylor Square, many people had expressed a desire for a significant artwork to celebrate Sydney's GLBTI community.
"Our experience creating major public artworks tells us that careful planning and extensive consultation is important," the Lord Mayor said.
For more information, visit: www.cityofsydney.nsw.gov.au for details.
Image: Rainbow Crossing installed for the 2013 Sydney Gay and Lesbian Mardi Gras Festival