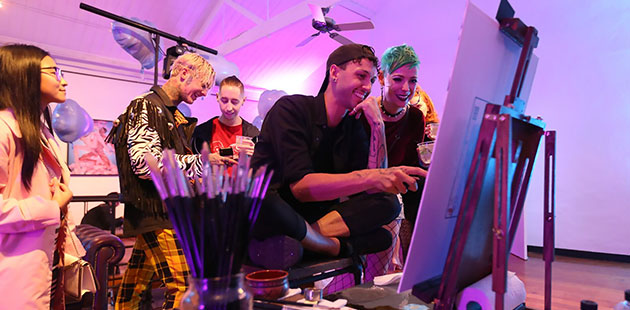 Are drag performers fine artists? With ornate costumes, elaborate makeup and all that self-expression, all fingers point to YAS! Pop-up queer event GIVE ME LIFE – Blank Canvas is set to fuse underground drag performance with the world of queer fine art at Second Story Studios on Saturday 30 November 2019.
Half art-exhibition and half party, come along to indulge your senses and step into our world of art. Set in a rainbow-coloured warehouse in Collingwood, Attendees can explore the thoughtfully curated art exhibition where selected works by local artists – Kyle KM, Disinhibition, Misklectic, Andy Leaf and Tara Grace – can be viewed and even purchased.
Throughout the evening, be entertained by a diverse cast of Melbourne and Sydney's favourite performers including Etcetera Etcetera (SYD), Mama Medusa (SYD), Luma, Misty Pical, Stone Motherless Cold and Dettol.
There will be the opportunity to chill out in a magical side room with a film and light installation by Sydney's Oliver Levi-Malouf. Attendees can even strike a pose for ten minutes so that Melbourne artist Kyle KM can paint you into his Blank Canvas – a live artwork of the entire party painted over the course of the night which will be raffled off to a lucky winner.
GIVE ME LIFE is proud to mix queer underground drag performance with the high-brow art world, bringing drag shows that are often only seen in dark nightclubs into a new environment to emphasise a higher vision of drag, queer art and nightlife culture.
Opening at 7:30pm, come early to enjoy a glass of bubbles, view the exhibition and mingle with the artists, but stay late to participate in the best-dressed walk-off and dance into the early morning.
---
GIVE ME LIFE – Blank Canvas
Second Story Studios, 222 Johnston Street, Collingwood
Event: Saturday 30 November 2019: 7.30pm – 1.00am
Bookings: www.humanitix.com.au
For more information, visit: www.givemelifeparty.com for details.
Image: Give Me Life Blank Canvas – photo by Ari New