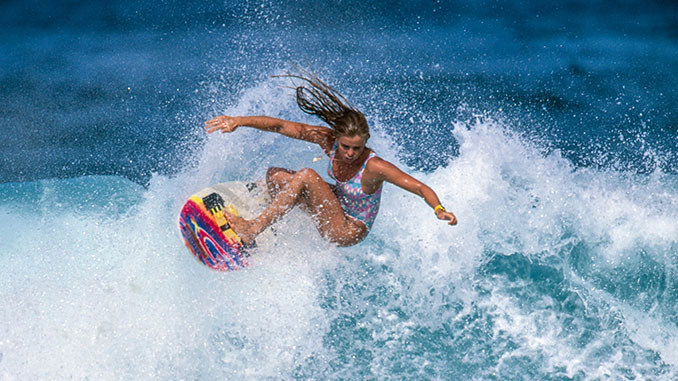 The untold story of how a band of renegade surfer girls in the 1980s fought to create their own professional sport, changing surf culture forever.
In the 1980s surf culture was the hottest thing on the planet – a circus of fluoro colours, peroxide hair and radical male egos. A sport that up until that point had been epitomised by the hippie counterculture of the 70s, and the Beach Boy scene of the 60s, was now going pro.
From the coasts of Australia to the beaches of California, Hawaii, France and Brazil, surf culture is now the hottest thing on the planet and male surfers the main event – golden gods in mainstream magazines and television.
In the middle of this came a disparate group of women from Australia, North America and South Africa – Jolene and Jorja Smith, Jodie Cooper, Pam Burridge, Frieda Zamba and Wendy Botha and Pauline Menczer – who dreamt of becoming world champions, and having their very own taste of the stardom and glory.
Fiercely individual, competitive, ambitious and opinionated, these women came up against a male-dominated surf industry and culture that wasn't ready for them.
A wild ride of clashing personalities, sexism, adventure, dreams and heartbreaks ensued, with each fighting against the odds – forced to wear impractical bathing suits and share dorm rooms with no hot running water just to make their dreams of competing a reality.
Earning a tenth of the prize money and being relegated to holding contests during the men's lunch breaks when the wind came on-shore and the bikini competitions started, the group had to fight convention, compete against each other and band together to realise their dream of a professional tour.
While men continued to secure sponsors by winning a few heats, women looking to secure a quality sponsorship had to be conventionally 'good looking', smile at the camera, be the world champion and hide their sexuality. Those lucky enough to have a sponsor would be forced to perform for crowds even in sub-standard conditions or risk being dropped.
It wasn't until 1989, when organisers of the world's preeminent surfing competition, Huntington Beach OP Pro, decided to drop the women's event in a bid to devote more prize money to the top 30 male surfers, that media began to take notice. Mass revolt against the decision, largely led by the Smith twins, forced the OP to renege.
Things got worse before they got better following the 1991 recession, which saw the sport plunge into crisis and women again bearing the brunt of the deal. As a result, almost half of the top eight female surfers retired in the mid-90s.
A breakthrough came in 1993 when Quicksilver noticed that girls were wearing boys' boardshorts, prompting the expansion of its bikini brand, Roxy, to include dedicated surf wear for women. Within four years, Roxy was turning over US$600 million annually.
Suddenly, what was once an inconceivable sport for women, became fashionable, with millions of young girls buying boardshorts and an entirely new generation of female surfers coming through the ranks.
It would take a further 25 years for equality. The victory came in the form of a photo of Ballito Pro Junior winners, Rio Waida and Zoe Steyn, which went viral in 2018 following condemnation over pay-disparity.
Billabong and the World Surf League (WSL) faced mass criticism over the 50 per cent difference in prize money between the male and female winners' cheques. The WSL stepped in to fix the pay gap, announcing equal prize money for women from 2019.
Girls Can't Surf explores an inspiring and little-known chapter of sporting history – the origin story of the women who broke all the rules to make women's pro surfing the main event. More than 40 years after these transformative events, it was high time to tell their story to a wide audience.
After successes internationally with projects such as Storm Surfers 3D,  director Christopher Nelius, says the idea came to him slowly over time. "I would see more and more girls joining my local surfing line-up over the years, and it wasn't always like that," he said.
"It made me wonder if they knew the stories of the women who'd come before them. The women who'd made it possible."
---
Girls Can't Surf screens in selected cinemas from Thursday 11 March 2021. For more information, visit: www.madmanfilms.com for details.
Image: Wendy Botha in Girls Can't Surf – courtesy of Madman Films