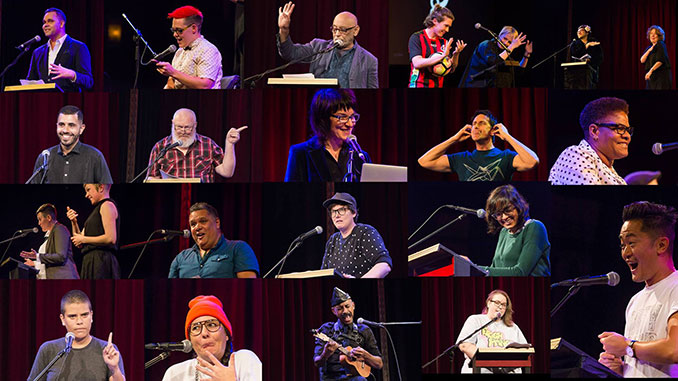 Surry Hills' iconic Giant Dwarf Theatre continues to support emerging artists, bold ideas and opportunity and equality for all artists by presenting in March, a Queer Hub – a queer focused program, supporting work made by, and for, the LGBTQIA+ community.
A staple to Sydney's entertainment scene, Giant Dwarf (often affectionately called GD) is home to performance makers of all minorities and encourages culturally and linguistically diverse artists to share their talents and develop new works in a colourful array of storytelling, cabaret, comedy and performance art in a safe and inclusive environment.
What you can expect at Queer Hub: Two Queers Open Mic on Tuesday, 8 March. The night allows a new space for queer comedians, no matter what level, to try out material or showcase some old work.
The following night will host the co-production of Giant Dwarf and Jenna Suffern's 10 Things I Hate About You (but it's queer) Table Read. The read showcases some of Sydney's best queer actors and comedians flipping the switch, because why do all queer films have to end in heartbreak?
The in-venue show has already sold out, however, live broadcast tickets are available thanks to GD's impressive multicamera, live switching operated set up.
Punters can expect to see all this as well as wild card lo-fi conspiracy extravaganza, The Summer Bay Homicides from eclectic performance artist Daley Rangi.
The experimental drama/comedy/thriller was submitted as a part of the Giant Developments Project that supports underrepresented artists across a wide range of communities in order to showcase and increase representation and diversity.
You can learn more about the Giant Developments Project and other shows from impressive up and coming artists on the Giant Dwarf Website.
The Queer Hub program comes to a conclusion with the ever popular monthly drag king showcase The Kings on Friday 12th, and Saturday with Queerstories led by writer and performer Maeve Marsden, celebrating the culture and the creativity of the LGBTQI+ community, one story at a time.
"Queer Hub is queer focused programming at Giant Dwarf Theatre, celebrating performance art, storytelling, cabaret and comedy," said Managing Director of Giant Dwarf, Bec Annetts.
"We feel it's important to continue supporting work made by and for the LGBTQIA+ community. Queer Hub is one of the ways we are doing that."
In its short history, Giant Dwarf Theatre has grown to occupy an important part of Sydney's liveperformance scene, each year selling over 20,000 tickets and presenting over 200 shows.
Queer Hub is no exception, with the theatre continuing to find exciting new artists across great Sydney and providing a platform to develop new talent and ideas.
As a performance space that values a creative and welcoming environment for audiences, Giant Dwarf offers Pay What You Can tickets to some of their shows.
"For the exact same reason that we ensure our venue remains financially accessible to artists and producers, it is just as important to us that ticket prices continue to be accessible for audiences," said Programme Producer and Ticketing Manager, Moira Kennedy.
"We never set a price that we wouldn't be willing to pay ourselves. It's only with support from City of Sydney that we are able to even dream of achieving projects like Queer Hub and Giant Developments."
Despite physical distance they invite their audience to experience performances through Live Broadcast tickets for those who are regionally based, are immune compromised or just want to watch from the comfort of their own home.
Giant Dwarf supports freedom of expression, opportunity and equality for artists. Tickets for Queer Hub, Giant Developments and other programming are on sale now starting from around $20. For more information and to book tickets, visit: www.giantdwarf.com.au for details.
Image: Queerstories (supplied)