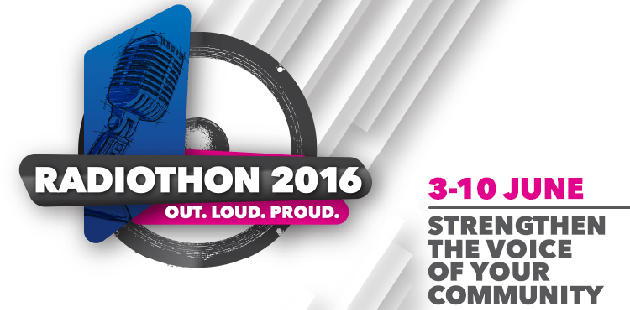 The annual JOY 94.9 Radiothon kicks off today to strengthen the voice of the lesbian, gay, bisexual, transgender and intersex (LGBTI) communities across Australia.
JOY's Radiothon is the station's primary fundraising activity and is responsible for keeping LGBTI voice OUT, LOUD and PROUD. Listeners will be encouraged to support JOY by signing up or renewing their membership and by giving donations to Australia's only LGBTI community radio station.
"It's such an exciting time for us. JOY is sounding great and we have more listeners and volunteers than ever, but running a radio station costs a lot more than people think. This year we need to raise at least $250,000," said Tennille Moisel, JOY CEO.
"We have some really exciting plans for the coming year to help JOY grow and expand which will help us reach more people and only further strengthen the voice of the LGBTI communities. This Radiothon will ensure we can bring these plans to life and execute them as best we can."
During Radiothon, you can expect to hear a lot of diverse voices and stories of how JOY strengthens the voice of your community and why you should get OUT, LOUD and PROUD with us over the coming weeks. JOY is a fully independent, non-profit community radio station that receives no government funding.
The only way JOY remains OUT, LOUD, and PROUD is with your membership and donations. For the eighth year in a row, proud JOY Patrons and long term supporters, Gary Singer and Geoffrey Smith will once again draw on the communities' strength with the Hour of Power, their dollar-for-dollar donation program on Friday 10 June from 7:30am with breakfast hosts Anna and Dean from Murphys Law.
Last year, Gary and Geoffrey raised over $96,000 for JOY in an hour and this year we're aiming for $120,000! If you can't donate on the morning, JOY is also happy to receive your pledged donations beforehand, email fundraising@joy.org.au to find out how. All donations over $2 are tax deductible and just in time for the end of financial year.
Everyone who signs up or renews as a JOY member will go into the draw for our soon to be announced major prize. There will also be daily prizes available throughout the week just for sharing your JOY with family or friends online. All you have to do is tag @JOY949 with a friend on Facebook, Twitter or Instagram and ask them to strengthen the voice of your community.
There's never been a more important time to strengthen the voice of your community. Sign up or renew a membership or donate to JOY today. The JOY Radiothon continues to Friday 10 June 2016. For more information, visit: www.joy.org.au for details.
Image: courtesy of JOY 94.9