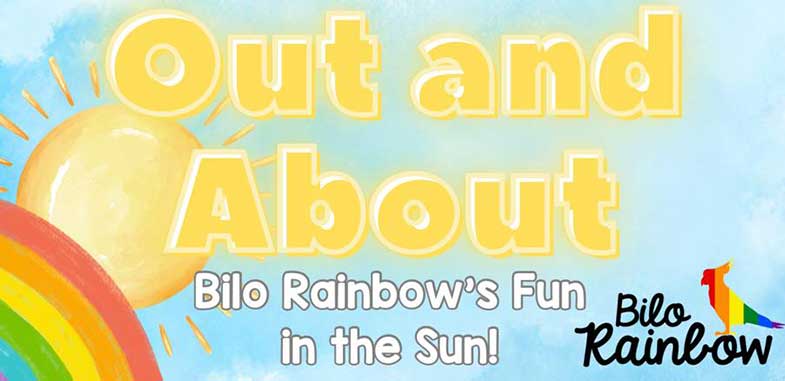 Following a successful Pride Picnic in the Park in 2022, Bilo Rainbow are keen to celebrate Pride month with the LGBTQIA+ community in the Banana Shire. On Saturday 17 June, the LGBTQIA+ community and their Ally's can get Out and About for Bilo Rainbow's Fun in the Sun at the Biloela Lions Park.
A slightly different format from last year's Pride Picnic in the Park – this will be a low-key afternoon event with a relaxed family friendly atmosphere complete with live busking, market stalls, face-painting and lawn games.
We are fortunate to have Gwen Evetts back, Pride Picnic goers will remember Gwen's fabulous Drag Queen portraits. Gwen will be hosting a watercolour workshop titled 'Self Expression'. This workshop will be available throughout the event on a walk in basis.
With the help of The Rabbit Hole Coffee & Cafe – VIP Picnic grazing packages will be available for those who want to really get into the picnic atmosphere.
Bilo Rainbow will have a range of merchandise available, as well as a youth giveaway with their 'Markets Bingo'. Participants can go into the draw to win a 'Heartstopper' bundle featuring Alice Oseman's Heartstopper books.
For the primary school aged & under our fabulous President Gen will host Storytime with Gen – Gen will be reading some brilliant books about inclusivity and diversity.
Keeping such event for the LGBTQIA+ community in Biloela and surrounds is such an important step in deepening connections. It helps create inclusivity and visibility for people who often feel isolated and unsafe within the broader community.
"We are continuing to create a safe places for LGBTQIA+ people, especially the youth. Events like this promote acceptance & understanding in our community" says Gen Dippel, Founder and President.
"Earlier this year our 2022 Pride Picnic in the Park was nominated for a Banana Shire Community Award for 'Community Event of the Year' which is a fantastic acknowledgement of just how much progress we are seeing in our regional community."
---
Out and About – Bilo Rainbow's Fun in the Sun
Biloela Lions Park, Gladstone Road, Biloela (Queensland)
Event: Saturday 17 June 2023 (11.00am – 2.00pm)
Information: www.facebook.com/BiloRainbow
Image: Out and About – Bilo Rainbow's Fun in the Sun (supplied)