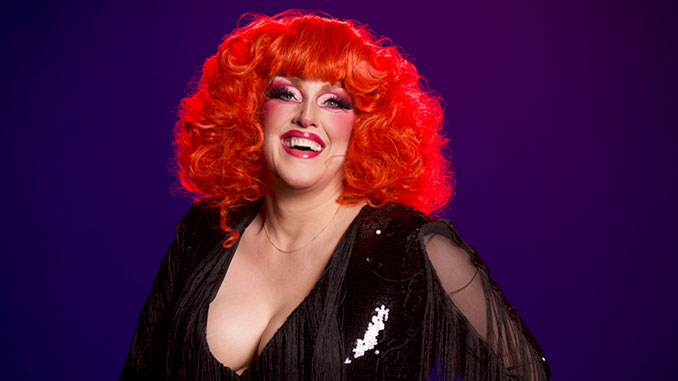 Fierce rock-cabaret singer-songwriter and comedian Geraldine Quinn returns to Adelaide this June with her original, sold-out, multi-award winning triumph of a cabaret – BROAD.
Agnes Moorehead. Rhonda Burchmore. Vivienne Westwood with a tit out. There is something heady about those brassy broads we grew up admiring.
Geraldine Quinn grew up idolising fabulous, bold, brassy (mostly ginger) older women. Now she's becoming one. But what happens when these camp-inspo-glamour heroines feel a bit close to your own sagging jawline?
Well, you write your own ridiculous story and paint your own ridiculous face in a blistering cabaret about how anyone can find their Endora – bejewelled kaftan and all – and take on the world.
From the creator of the sold-out romp, Sunglasses at Night: The 80s Apocalypse Sing Along Cabaret, and the 2011 Golden Gibbo Award winning, You're The Voice: Songs For The Ordinary By An Anthemaniac – BROAD is another notch in this veteran cabaret star's expanding belt, which sold out during the Melbourne International Comedy Festival and earned no less than seven award nominations and three wins.
Whether you want to unlock the Auntie Mame inside you, polish your brassiness or if (like Quinn) your knees just aren't working anymore and you need to be near someone who understands; ALL are welcome in The Broad Church.
"The sort of electric thunderclap that inspires audience members to hoot out loud and bump the air with their fists in empowered solidarity, it lays down the gauntlet for the moment to beat." – Time Out Melbourne ★★★★★
---
Geraldine Quinn: BROAD
Banquet Room – Adelaide Festival Centre, King William Road, Adelaide
Dates: Friday 23 & Saturday 24 June 2023
Information and Bookings: www.adelaidecabaretfestival.com.au
Image: Geraldine Quinn – photo by Evan Munro-Smith