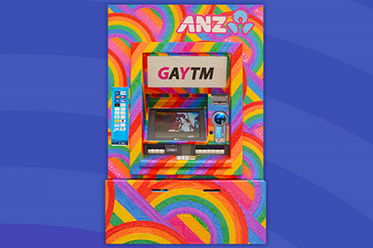 Two of ANZ's 10 highly decorated GAYTMs have been vandalised over the weekend in what has been described as a homophobic attack in Sydney's CBD.
Police were called to the Oxford Street location around 8.00pm on Sunday 9th March in response to reports that two men were vandalising the ATMs with a metal bar. Upon arrival they found that the decorative signage had been removed from the ATMs, but the machines themselves remained intact.
Superintendent Tony Crandell, Corporate Sponsor for Sexuality and Gender Diversity stated: "The investigation remains in its early stages, with detectives now reviewing CCTV footage from a number of sources in the area and interviewing potential witnesses."
"If this damage was designed to somehow hurt the spirit of Sydney's LGBTIQ community, those responsible have simply underestimated the degree of community pride and resilience recently celebrated at the 2014 Gay and Lesbian Mardi Gras."
An ANZ Spokesman said "We were disappointed two of our GAYTMs were vandalised over the weekend, particularly considering the positive feedback the campaign received as a way to celebrate inclusion and diversity during the Sydney Mardi Gras Festival.
"As soon as we became aware of the incident, we dispatched a crew to clean up after the vandals and ensure the ATMs and surrounding site were secure. The remaining GAYTMs will be decommissioned tonight (10 March) as originally planned."