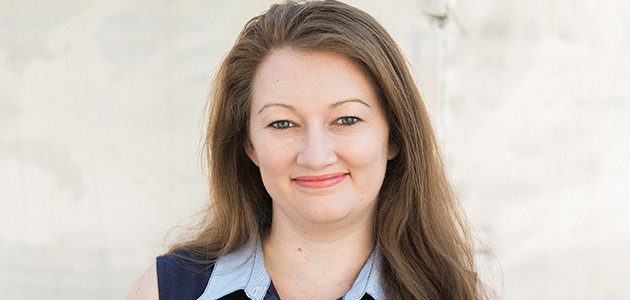 Gasworks Arts Park in partnership with Melbourne's Midsumma Festival have announced that Zoe Brinnand has won the 2017 Playtime Staged Readings for her work-in-development, My Big Fat Lesbian Greek Wedding – a comedic and autobiographical account of her experiences in Melbourne's Greek Community.
"My Big Fat Lesbian Greek Wedding was the firm audience favourite at this year's Playtime readings so we can't wait to see the full-length production develop here at Gasworks Arts Park," said Gasworks Arts Park Director and CEO, Tamara Jungwirth. "Historically, dramatic theatre, particularly that based on new Australian writing, is a genre that has a long lead time in its genesis and needs some support to develop so that LGBTIQ issues can be represented on stage."
Developed to foster playwriting talent in LGBTIQ community, Playtime is part of Gasworks performing arts program, inviting developing voices in queer theatre to submit works for consideration. These are then shared with a Midsumma at Gasworks audience, with a panel of judges providing feedback. In 2017, four plays were presented by five playwrights and each one was a strong contender for an authentic voice that merits further artistic development.
As the winner of Playtime, Zoe will be offered further development of her work and supported to find new performance opportunities. This will extend the life of the work and present it to audiences in greater numbers, bringing authentic and humourous LGBTIQ experiences to an even wider audience.
"I can't thank Gasworks Arts Park and Midsumma enough for the opportunity to bring my work to such a supportive audience," said Brinnand. "Being involved in Playtime Staged Readings was invaluable as it helped me gain immediate feedback on my writing, and connect with a crowd who may not have otherwise seen my work"
Zoe Brinnand is a Melbourne based (Brisbane born) emerging theatre maker, with a special interest in queer stories. Her first two plays, The Ultimate Lesbian Double Feature and The Adventures of Yoni 1 & Yoni 2 have been very well received across Australia, being staged at Midsumma, Sydney Gay & Lesbian Mardi Gras, and Brisbane Powerhouse's LGBTI festival, MELT. Zoe's short play Queerachy was recently part of Short + Sweet Sydney and Short + Sweet Queer 2017
"We are excited to have worked with Gasworks Arts Park to select Zoe Brinnand as the winner of Playtime. My Big Fat Lesbian Greek Wedding is not only heart-achingly funny, but also poignantly captures the experience of coming out to a Greek Australian family," said Daniel Santangeli, Midsumma Program Manager. "Midsumma is proud to support new artistic voices. Each of the works presented as part of Gasworks' Playtime Staged Readings represented a fresh new playwright each with their own unique artistic vision and insights into contemporary queer life."
For more information, visit: www.gasworks.org.au or www.midsumma.org.au for details.
Image: Zoe Brinnard – photo by Scott Clark