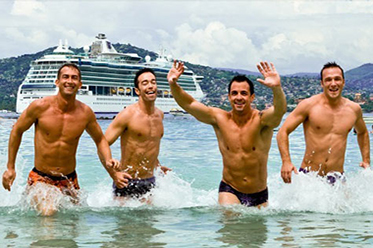 Gay and Lesbian Tourism Australia (GALTA) has announced a joint initiative with Out Now – the organisation behind the world's leading global LGBT tourism network, forging a strategic reciprocal alliance with ONBC – Out Now Business Class.
"This new partnership makes good sense for GALTA members," says GALTA President, Rod Stringer. "Our members are at the forefront of LGBT tourism development in our region."
"It is clear to all that travel is a global concern and adding access to a global network and the industry-leading international resources delivered by ONBC and OutNow.travel makes a lot of sense to our organisation – and most importantly for our members. There are a myriad of resulting benefits for both GALTA and ONBC by collaborating, so we are looking forward to developing this relationship to benefit all."
ONBC and OutNow.travel membership is part of the strategic focus of a growing number of organisations recognising the importance of training and certification to deliver a genuine welcome LGBT travellers can trust.
Existing ONBC and OutNow.travel members include resorts and hotels from leading international chains such as Marriott, Hilton, Velas Resorts as well as tourism offices in locations including Stockholm Visitors Board, Visit Helsinki, visitBerlin – totalling more than 1,400 hotels and 100 destination marketing offices worldwide.
Ian Johnson, CEO of Out Now – the managers of ONBC and OutNow.travel said his organisation was delighted with the new GALTA alliance: "We have long been impressed by the professional and vital role that GALTA undertakes in the Australian tourism industry," says Johnson.
"At ONBC we take great care to work with the best and make sure our network is constantly enhanced by growing our valued membership base that forms an integral part of our global network."
"GALTA – and its members – are an ideal fit with our approach and we are so pleased to welcome them to the benefits offered for our partners in ONBC and OutNow.travel. Australian GALTA travel members' businesses ultimately benefit LGBT people as consumers – who are the ultimate drivers of the substantial global growth in LGBT tourism."
Latest research by the Out Now Global LGBT2020 Study values the global annual tourism spend at USD$202 billion for 2014, with Australian LGBT travellers accounting for just over USD$6 billion of the global total. In Australia, the LGBT2020 study reveals that the average LGBT person spent over USD$5,000 on travel last year.
With this new ONBC alliance plus other GALTA initiatives during 2014, GALTA is confident of the significant potential to grow international inbound gay tourism to Australia even further during the next 24 months with government assistance.
The new alliance will offer GALTA members complimentary 12 months membership with ONBC – including unlimited online staff training utilising the OutNow.travel online staff training certification program.
In addition, ONBC members enjoy one-click connections to key tourism industry decision-makers globally interested in the development of LGBT tourism. Members training staff in ONBC also become certified members of OutNow.travel – a dedicated consumer portal allowing gay consumers the option of selecting truly "LGBT/Gay-Welcoming" properties offering high standards of welcome and service to the LGBT market.
Johnson said that experience globally has shown that the value of the market can be strategically enhanced where destinations develop targeted strategies to build LGBT tourism.
"Australia's economy has a lot to gain by supporting the efforts of GALTA to increase attention globally to learn about the high-quality tourism product being developed in Australia and delivered by GALTA members," says Johnson.
"Tourism is an export revenue-generating industry for the economy and Out Now believes Australia is long overdue for official government tourism bodies to invest proper levels of funding to leverage the substantial earnings potential of LGBT tourism."
"There is now over USD$200 billion up for grabs and other countries are doing exactly that at this particular time. The Australian tourism industry can compete at a much higher earnings level in the global tourism market to attract a lot more gay travellers to visit – and doing that will bring nothing but good for local businesses and for Australian jobs."
For more information, visit: www.galta.com.au or www.outnowbusinessclass.com for details.
Image: courtesy of OUT Now