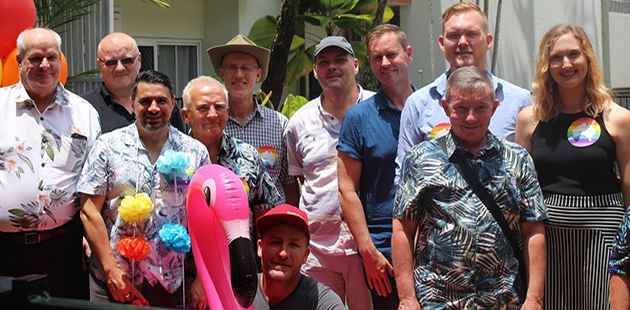 Gay and Lesbian Tourism Australia (GALTA) has written to congratulate Victorian Premier Daniel Andrews on his recent victory at the polls, and to offer GALTA's expertise to help steer his election pledge of boosting gay and lesbian travel to the State.
"Prior to the election, the Premier outlined a desire and the beginnings of a plan to capitalise on gay and lesbian events and tourism product," said Mario Paez, GALTA President. "He identified the 40th anniversary of Melbourne Pride in 2021 as a reason to inject new funding, and he has promised $6.4 million in support of services and initiatives for the gay community, including $200,000 to help boost regional and rural pride events.
"This clearly shows an understanding of how the state's economy, as well as its generosity of spirit, will benefit from injecting not only money, but excitement, energy and enthusiasm into supporting and initiating rainbow product and marketing attractions."
Mr Paez said it's time the LGBT+ community stepped away from the "niche" traveller marketing label, and was instead considered the same as any mainstream market segment. He said he hoped Victoria picked up on that challenge and offered GALTA's experience and guidance in assisting Visit Victoria to achieve the best outcomes.
"LGBT+ travellers should no longer be considered a 'niche' market group – like every other segment of the marketplace, we travel for adventure, for honeymoons, for culture and food, for luxury, camping, nature experiences, business and VFR. You need to reach us in the same way you tailor any other market segment – not as a niche, but as dedicated experiential travellers.
"Visit Victoria is not as yet a member of GALTA. We will be approaching them in the very near future to hopefully rectify that. But that is just the paperwork – what we're interested in is assisting the Victorian government in developing a truly contemporary, exciting and effective approach to attracting LGBT+ tourists across all demographics and target groups. Once we get one state on board with this, my sincere hope is that all of the others will follow suit."
Mr Paez said the letter to Mr Andrews has been sent and he will be following up with other government and Visit Victoria stakeholders in due course. For more information about GALTA and Visit Gay Australia, visit: www.visitgayaustralia.com.au for details.
Image: GALTA Board and Supporters at the recent AGM in Cairns (supplied)