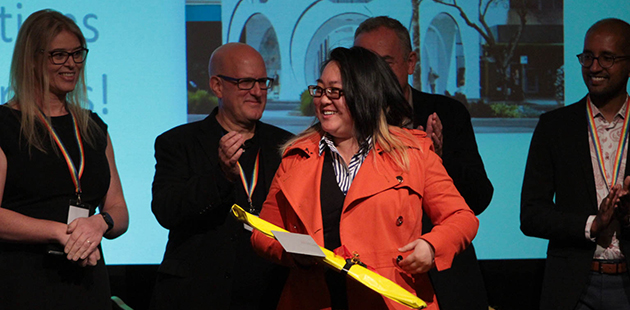 The Victorian Pride Centre in partnership with the Australian GLBTIQ Multicultural Council (AGMC) have secured a $99.4k grant from Victoria's Multicultural Community Infrastructure Fund.
The grant will ensure a fit for purpose, permanent home for the AGMC. It will empower the organisation to take a leadership role in ensuring that cultural sensitivity is promoted as a fundamental ethos for organisations and individuals utilising the Victorian Pride Centre.
"We are thrilled and excited to win this grant as it ensures that people of all colours, races, ethnicities and faith are represented and visible within the Pride Centre," said Dr Judy Tang, President AGMC.
In addition to ensuring a presence for the AGMC within the Pride Centre, the $99.4k will be used to establish a dedicated reflection room; wayfinding technology and directional signage in over 30 languages; art work and friezes which reflect Australia's multicultural diversity; and a 21st century meeting room with audio and visual equipment suitable for video and phone conferencing.
"In Victoria there are now at least 20 Same-Sex Attracted and Gender Diverse organisations representing 34 cultures," said Jude Munro AO, Chair Victorian Pride Centre. "With an office, meeting room and reflection space, the AGMC at the Victorian Pride Centre, will be a beacon for LGBTIQ members of different multicultural and multi-faith communities and allow them to meet, socialise and organise in ways which are currently impossible."
Overwhelming community support for the application was received, with more than 20 LGBTIQ multicultural and multi-faith organisations, together with peak bodies such as the Ethnic Communities Council of Victoria, providing letters of support.
"Many LGBTIQ members of multicultural and multi-faith backgrounds fear for their emotional and physical safety if their sexualities are disclosed or discovered," said Ms Munro. "It is vital that LGBTIQ communities feel safe and welcomed at the Victorian Pride Centre."
For more information, visit: www.pridecentre.org.au or www.agmc.org.au for details.
Image: Dr Judy Tang, President AGMC – courtesy of Victorian Pride Centre