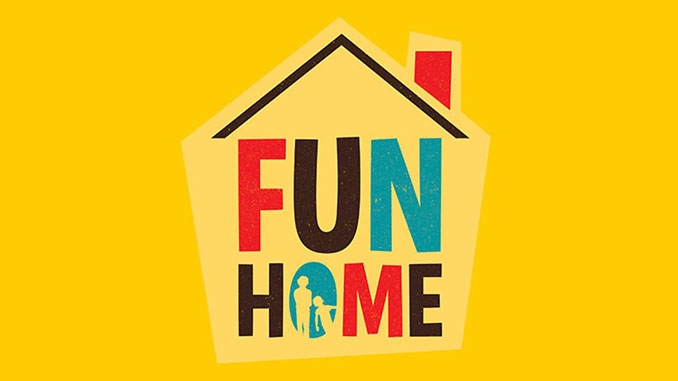 Five time Tony Award-winning musical Fun Home will make its much anticipated debut in Melbourne in a special Melbourne Theatre Company and Sydney Theatre Company co-production, in association with Midsumma Festival, opening on Thursday 10 February at Arts Centre Melbourne.
With Music by Jeanine Terori, Book and Lyrics by Lisa Kron, and based on Alison Bechdel's groundbreaking best-selling graphic novel, Fun Home is a heartfelt story about coming out and coming of age.
Alison Bechdel is a cartoonist – it's her job to fit stories into boxes; but her own life story sings outside the box. Moving between past and present,
Alison relives her unique childhood playing games in the family's funeral home, her growing understanding of her own sexuality, and the looming, unanswerable questions about her father's hidden desires.
Directed by Dean Bryant (Torch the Place) Fun Home features a stellar cast that includes Lucy Maunder (Ladies in Black), Euan Fistrovic Doidge (Pippin), Emily Havea (Wentworth), and Ursula Searle.
This critically acclaimed production also stars Silvie Paladino (Mamma Mia!) and Adam Murphy (Shakespeare in Love) as Alison's parents.
"I'm excited to be finally bringing Fun Home to Melbourne. Musicals are famously electrifying, but rarely have I worked on one that is as sharp as it is funny and moving," said Director Dean Bryant.
"The response to the production in Sydney was overwhelming; tears, standing ovations and letters from the public about the impact seeing Fun Home had on them. The mix of nuanced and heartbreaking performances from the adults with the joy of real children onstage is something to behold," said Bryant.
Winner of three Tony Awards including Best Musical and Best Original Score, a finalist for the 2014 Pulitzer Prize for Drama, and Best Direction of a Musical (Dean Bryant) at the recent Sydney Theatre Awards, Fun Home has been described as "a beautiful, sensitive, insightful, innovative and heart-breaking musical" (Limelight).
Alison Bechdel is an American cartoonist and MacArthur Fellow. Best known for her award-winning autobiographical novel Fun Home,  she is the author of the critically acclaimed graphic memoirs, Are You My Mother? and The Secret to Superhuman Strength.
Bechdel also wrote Dykes to Watch Out For for 25 years (1983 to 2008) – a slice of life comic strip that offered humourous and biting insight into lesbian culture and inspired the ubiquitous 'Bechdel Test' – which is still used to draw attention to gender representation and sexism in film.
Director: Dean Bryant | Featuring: Euan Fistrovic Doidge, Emily Havea, Lucy Maunder, Adam Murphy, Silvie Paladino, Ursula Searle, Jai D'Alessandro, Flora Feldman, Jasper Hall, Sophie Isaac, Teja Kingi, Luka Sero, Sebastian Sero, Edgar Stirling, Aidan Synan | Band: Samuel Ainslie, Tom Doublier, Fiona Furphy, Ryan Lynch, Oliver Powell, Lynette Raynor | Musical Director: Mathew Frank | Choreographer: Andrew Hallsworth | Set & Costume Designer: Alicia Clements | Lighting Designer: Matt Scott | Sound Designer: Nick Walker | Voice & Dialect Coach: Amy Hume | Associate Director: Clemence Williams | Associate Designer: Isabel Hudson | Choreography Assistant: Henry Jaksetic
---
Fun Home
Plahouse – Arts Centre Melbourne, 100 St Kilda Road, Melbourne
Season: 10 February – 5 March 2022 (previews: 8 & 9 February)
Information and Bookings: www.mtc.com.au
Image: Fun Home (supplied)