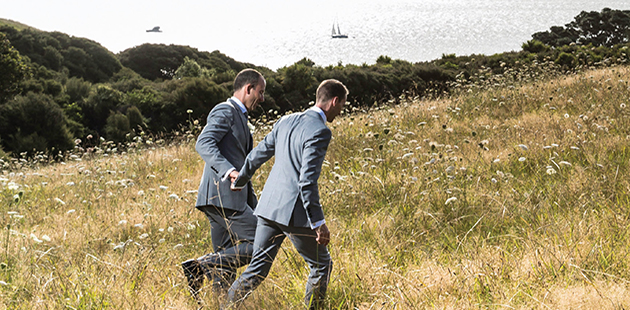 A new book on marriage equality aims to look beyond the slogans to the deeper questions the issue raises and the people it affects. The book, From This Day Forward: marriage equality in Australia, is written by the national director of Australian Marriage Equality and 2015 Tasmanian of the Year, Rodney Croome.
Mr Croome says he hopes the book will inform people new to the issue as well as those who already support it. "My aim is to answer the questions many Australians are asking, such as why are we debating marriage equality, why does it matter and how will it be achieved."
"Along the way I look at broader issues including the evolution of marriage and gay identity, the historical struggles of Australian minorities for the freedom to marry and what Tasmania's marriage equality debate says about the Island."
The book puts the case for marriage equality and critically examines arguments against the reform from the right and the left. It also looks at the debate surrounding marriage equality in Australia; tracing it origins back many decades, evaluating the different paths to marriage equality and focussing on what role everyday Australians can play in achieving the reform.
Along the way Mr Croome illustrates his case with personal stories from same-sex partners, their family members and friends. "Too often the marriage equality debate gets lost in abstractions so I wanted to ensure my case is grounded in the experience of the people most affected," says Mr Croome.
"In this timely book Rodney Croome reminds us that marriage equality is not just an issue for the gay community or the political left. It is something all Australians can unite in support of."– Christine Forster, Councillor City of Sydney
From This Day Forward: marriage equality in Australia is published by Walleah Press and is now available in bookshops. All profits from the sale of the book go to Australian Marriage Equality.
Image: From This Day Forward: marriage equality in Australia – book cover (detail)