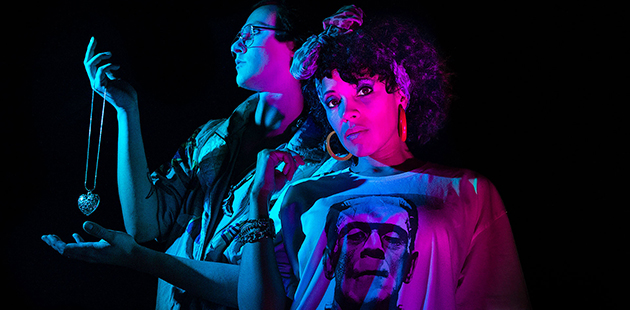 Based on the famous gothic novel by Mary Wollstonecraft Shelley, Theatre Works presents Lally Katz's compressed version of Frankenstein – a dark, yet moving portrayal of one of horror's most iconic creations, in a Victorian premiere season from 20 July 2017.
Directed by Phil Rouse, this new production of Frankenstein provides a compelling perspective on guilt, crime and gender, while celebrating 80s pop culture and revisiting beloved power ballads that features Chantelle Jamieson as The Creature – a tragic innocent, and Michael McStay as Victor Frankenstein – cold and inhumane father.
Shelley's famous gothic tale unfolds in the most simple fashion imaginable, turning dramatic circumstances on their heads by revealing the Monster's through discussion rather than portrayal. Casting a young woman as the Monster provides a compelling perspective on guilt, crime, gender and power that allows for a reading of the text "against the grain".
Rouse's production company, Don't Look Away is dedicated to "great playwrights that we haven't heard from lately or great plays we never heard of, by playwrights we know". He returns to Theatre Works after directing 2016's sold-out season of Brecht's The Resistible Rise of Arturo Ui, and 2015's production of Alma De Groen's classic Australian play The Rivers of China.
Lally Katz is one of Australia's most produced playwrights who has earned a reputation as one of the most unique voices in contemporary playwriting. Her works include: Minnie & Liraz, The Eisteddfod, Back At The Dojo, The Rabbits, Timeshare, A Golem Story, The Cat, Neighbourhood Watch, Return to Earth, Starchaserand Stories I Want To Tell You In Person. Her latest play, Atlantis is scheduled to make its world premiere at Belvoir in October.
Frankenstein was originally commissioned and first produced by Sydney Theatre Company in 2008 as part of the Wharf 2LOUD program. It was nominated for a Queensland Premier's Award for Best Drama Script in the same year.
"An absorbing and thought-provoking take on a very familiar classic, and an excellent example of experimental theatre." – Australian Stage
Director: Phil Rouse Featuring: Chantelle Jamieson, Michael McStay Design: Martelle Hunt Lighting Design: Richard Whitehouse
Frankenstein
Theatre Works, 14 Acland Street, St Kilda
Season: 20 – 29 July 2017
Information and Bookings: www.theatreworks.org.au
Image: Michael McStay and Chantelle Jamieson star in Frankenstein (Supplied)