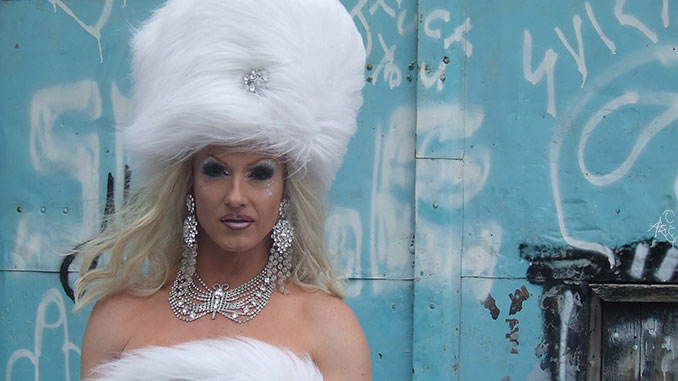 From a comedy gala showcasing Australia's funniest LGBTQI+ talent to an insightful series of talks held by queer thought leaders, Sydney Gay and Lesbian Mardi Gras has announced a selection of enticing events taking place this February.
"In response to the pandemic, and to ensure we're providing safe spaces for the community to come together, this year's Mardi Gras festival will look different than it has in the past," said Albert Kruger, Mardi Gras CEO.
"We're delighted to announce the return of the Laugh Out Proud comedy gala, Queer Thinking, My Trans Story and new event, My Drag Story. These events will take place in a live COVID-safe format, and also be available digitally for members of our communities who are unable to join us in person."
Shows featuring during Mardi Gras 2021 include:
LAUGH OUT PROUD
Enmore Theatre: Friday 26 February 2021
After a sold out inaugural event in February 2020, Mardi Gras' comedy gala is back for a night of belly laughs with Australia's best and brightest LGBTQI+ comedians. Featuring a stellar line-up of hilarious queer stand-up talent, Laugh Out Proud is Mardi Gras' comedy event of the year! Hosted by the award-winning Nath Valvo, Laugh Out Proud has loads of comedic talent for one incredible night only – including: Geraldine Hickey, Mel Buttle, Thomas Jaspers, Rosie Piper, Margot Tanjutco, Selina Jenkins, Jake Howie and Jay Wymarra.
MY TRANS STORY
NSW Teachers Federation Auditorium: Friday 26 February 2021
At a time when the trans experience is becoming more visible we still rarely see stories by trans and gender diverse people on a screen, in theatres, a bookshelf or in popular culture and when we do, they focus on coming out and surgery or discrimination and hate crimes. From the personal to the political My Trans Story features proud trans and gender diverse storytellers from Sydney and beyond, including Tea Uglow, Andrew Guy plus more to be announced, celebrating their complex, sometimes funny, often fearless, always fierce histories.
MY DRAG STORY
NSW Teachers Federation Auditorium: Saturday 27 February 2021
With Priscilla, Queen of the Desert stamped on our national identity and Drag Race sashaying across screens there's no doubt Drag has sunk its six-inch heels into the mainstream. From the high-glam era of Les Girls and Capriccios to the diverse fabulousness many decades later – our nation's alumni of drag artists have proudly carved a cheeky and quintessentially Aussie path through our cultural playbook. My Drag Story uncorsets seven queens, kings and gender defying royals to reveal what's beyond the painted façade, including Amelia Airhead, Cindy Pastel, Nana Miss Koori, Sexy Galexy – full lineup to come.
QUEER THINKING
NSW Teachers Federation Auditorium: Saturday 27 February 2021
Queer Thinking is Mardi Gras' program of talks where audiences are invited to unpack a range of issues faced by the LGBTQI community both in Australia and abroad in thought-provoking conversations about the world we live in.
Queer Thinking talks include:
The Fights Ahead
Almost five years after publishing his Quarterly Essay Moral Panic 101 – as well as the marriage equality "Yes" vote – writer Benjamin Law regathers with activists, parents and policy-makers to identify where the new anti-queer culture wars are located – and what needs to be done to defend the most vulnerable in our community.
Raising the rainbow flag: Rising up for 'GAYRABIA'
While Arab Australians lives aren't under the same threat as those in the Middle East, some struggle with being openly gay, the fear of losing family and being cut off is all too real. Join award winning journalist, TV presenter and out and proud 'Gayarab' Patrick Abboud as he hosts a panel of local and international queer heroes rising up for 'Gayrabia', each sharing their personal stories live for the first time. Live vogue performance featuring House of Silky's Xander Khoury and audience Q&A to follow the panel discussion.
---