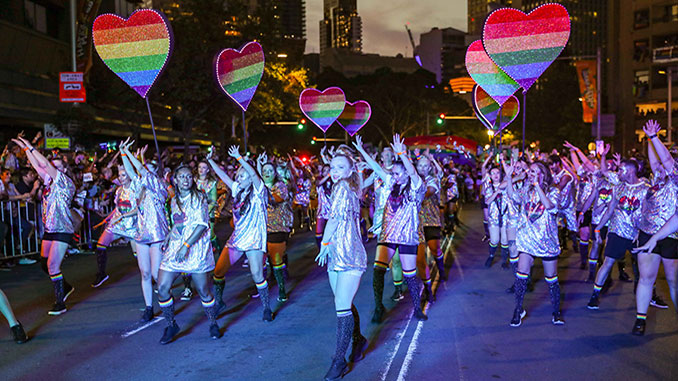 Key city roads that have forged the path of the Sydney Gay and Lesbian Mardi Gras Parade since 1978 are being recognised for their State significance by the NSW Liberal and Nationals Government.
NSW Minister for Heritage James Griffin has added the Sydney Gay and Lesbian Mardi Gras Parade route to the NSW State Heritage Register in what will be its 45th year, and ahead of Sydney hosting WorldPride 2023.
"Adding the Sydney Gay and Lesbian Mardi Gras Parade route to our State Heritage Register acknowledges the pivotal role it has had in shaping the social history of NSW, and celebrates how after years of community activism it contributed to better acceptance, understanding and equality for LGBTIQA+ communities," said Mr Griffin.
"This well-trodden 2.4 kilometre stretch has paved the way for a more inclusive Sydney since 1978, making our Mardi Gras the longest-running continuous LGBTIQA+ rights march in the world."
"The Heritage Listed route includes parts of Oxford Street, Flinders Street, Anzac Parade and Darlinghurst Road, as well as the Darlinghurst Police Station, where protesters were arrested."
Minister for Tourism Ben Franklin said the State Heritage Listing is an important milestone for all Sydneysiders, particularly those who have marched.
"Every year, we see hundreds of thousands of people march along this world-famous route, to unite the community and celebrate equality," said Mr Franklin.
"The Mardi Gras is important to Australia's cultural identity, empowering people to gather and celebrate diversity in a safe and inclusive way."
"This year's Mardi Gras is going to be bigger and better than ever, alongside Sydney's first ever WorldPride 2023, with activities featuring more than 300 events over 17 days," said Mr Franklin.
Sydney Lord Mayor Clover Moore said the Sydney Mardi Gras Parade route State Heritage Listing celebrates the legacy of original protesters who stood up for recognition and acceptance in Australian society.
"The courage of those who marched in 1978 was inspiring and reaped results," said Ms Moore. "The City of Sydney strongly supports the Heritage Listing of this important route and its role in hosting marginalised communities and social protest."
"We are committed to ensuring that the history and identity of Oxford Street and its surrounding neighbourhood is properly recognised and will strengthen its LGBTIQA+ character," said Ms Moore.
One of the original 1978 protestors was author and activist Peter de Waal AM. "During our 1978 Sydney Mardi Gras parade, we, with fearful angry voices, shouted: 'Stop police attacks – on gays, women, and blacks'," he said.
"Many years later, our rainbow community now parades there with proud pride, diversity, and belonging. For many, our 1978 route became a rite of passage," said Mr de Waal.
Sydney Gay and Lesbian Mardi Gras CEO Albert Kruger said the impact of LGBTIQA+ pioneers who first walked the route in 1978 is still felt today.
"Oxford Street and its surrounds have a deep-rooted connection to the equality movement in Australia and have long been a safe space for our communities to gather, celebrate and protest," said Mr Kruger.
"State Heritage recognition of the Parade route is an international statement on the importance of creating and protecting LGBTIQA+ spaces."
---
The 45th Sydney Gay and Lesbian Mardi Gras Parade takes place on Saturday 25 February. Sydney WorldPride 2023 runs 17 February to 5 March. For more information and full program, visit: www.sydneyworldpride.com for details.
Image: Sydney Gay and Lesbian Mardi Gras Parade (supplied)