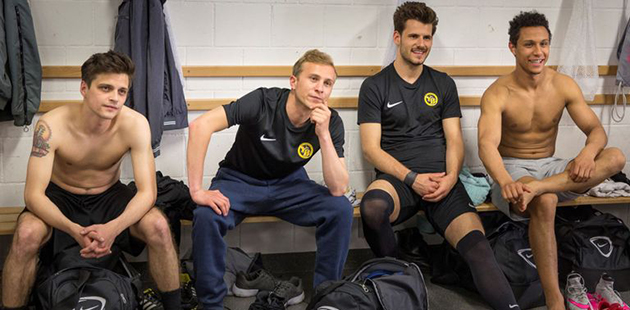 Featuring some of the best LGBTIQ films from around the globe, Queer Screen has revealed the first three films that will screen as part of the 6th Queer Screen Film Fest at Sydney's Event Cinemas George Street from 18 September 2018.
There's the Australian premiere of a documentary that Queer Screen loved so much – they helped it get made; a smart and sexy film from Switzerland that has charmed fans at LGBTIQ festivals around the globe; and to open the festival, an outstanding Icelandic film which won at Sundance. These great films are a fantastic sample of the quality of this year's festival.
And Breathe Normally
Tuesday 18 September – 7.00pm
Lára (Kristín Thóra Haraldsdóttir) is a single mother living with her young son, Eldar. In the wake of an economic crisis, she strives to start a new life. When in training to become a officer for border security, she encounters Adja (Babetida Sadjo), a refugee from Guinea-Bissau who is discovered to be traveling on a forged passport. The Icelandic woman and persecuted refugee forge an unlikely bond, highlighting empathy as the antidote to apathy. A timely and deftly crafted commentary, gently tackling matters of socio-economics, addiction and sexual orientation through the urgent lens of the global refugee crisis. Don't miss its Sydney premiere.
Nothing To Lose
Friday 21 September – 7.00pm
Kelli Jean Drinkwater's intimate, thought-provoking documentary Nothing To Lose chronicles the making of Force Majeure's hit dance production of the same name. From open auditions and workshops to a triumphant performance at the 2015 Sydney Festival, it is an inspiration and Queer Screen is proud to present its Australian premiere, fresh from its world premiere in San Francisco. Unhappy with the lack of larger bodies on stage, acclaimed choreographer Kate Champion joined forces with artist and fat activist Drinkwater to create a new language of dance. In the process, professional and non-professional dancers alike discovered the power of their own bodies.
Mario
Saturday 22 September – 6.30pm
Mario and Leon, two soccer players aspiring to the A-league. As their work and homelife collide, their chemistry on and off the field awakens in Mario a lust and desire for Leon that cannot be denied. As Mario falls deeper for Leon, his commitment to the game is called into question, and Leon and Mario are forced to hide their budding relationship. Can their romance survive in the conservative world of soccer? Mario is a powerful story that sensitively examines love under pressure, and what we are willing to compromise for the heart.
The 6th Queer Screen Film Fest runs 18 – 23 September. Full program announced on 9 August 2018. For more information, visit: www.queerscreen.org.au for details.
Image: Mario (film still)