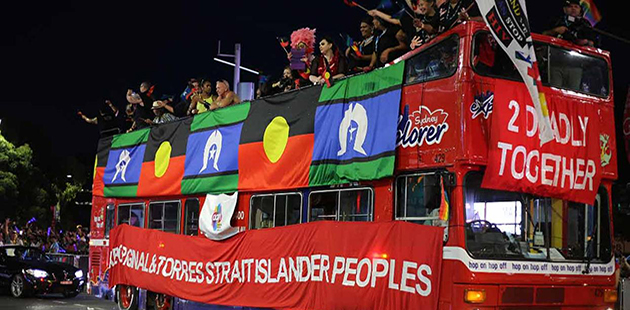 It has been announced that the First Nations Peoples will lead the 2017 Sydney Gay & Lesbian Mardi Gras Parade on Saturday 4 March to champion equality for all.
The float, entitled Creating Equality: Step by Step will be created and led by First Nations people of diverse gender and sexuality, together with family, friends and supporters. The theme highlights that we are working step by step towards achieving equality in all areas, including health, education and employment, in which First Nations people are still heavily disadvantaged. Key messages include:
equality is needed regardless of race, culture, gender, sexuality, religion or marital status, in all areas of human rights and social justice
we are working towards equality step by step
we need others to join with us and work together
The First Nations fabulous float will feature:
Theme music, Step By Step by Whitney Houston, with a strong message of perseverance to overcome challenges
Our open-top bus carrying honoured guests including Elders who, as role models, demonstrate their love and support for diverse family members
Special guests whose profile gives visibility to our human rights, including First Nations parliamentary representatives and members of the Australian Human Rights Commission's Aboriginal and Torres Strait Islander Social Justice Commission
Stunning drag icons including Bundjalung It Girl, Destiny Haz Arrived and the stunning Dreamtime Divas from Dunghutti Country
Talented young dancers from NAISDA dance college – currently celebrating its 4oth anniversary
Diverse community members who've travelled from across the country to take part
Huge illuminated letters spelling out FIRST NATIONS carried by proud participants
Fabulous sequinned Aboriginal and Torres Strait Islander flags
Colourful dancing props echoing the step by step theme
The entry is proudly supported by the Aboriginal Project at ACON, NSW's leading HIV prevention, HIV support and LGBTI health organisation, to facilitate First Nations people's awareness of and access to ACON's LGBTI health promotion work and HIV services.
Registrations to participate in the parade entry will open in late January and will be announced on facebook. Places are limited and always fill up fast so interested people should 'like' the page and ensure their settings allow alerts from this page so that they don't miss the announcement.
For more information on past parade entries, visit the interactive history of First Nations Peoples in the Sydney Mardi Gras Parade: www.blackmardigras.net for details.
Image: First Nations Peoples at the 2016 Sydney Gay and Lesbian Mardi Gras – courtesy of NITV