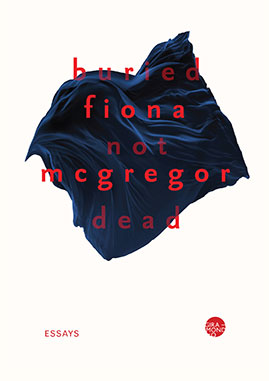 Fiona McGregor's Buried Not Dead is a collection of essays on art, literature and performance, sexuality, activism and the life of the city.
It features writers, artists, dancers, tattooists and DJs, some of them famous, like Marina Abramovic and Mike Parr, others, like Latai Taumoepeau, Lanny K and Kathleen Mary Fallon, unjustly overlooked.
The portraits of these figures and the scenes they inhabit present an intimate and expansive archive of a world rarely recorded in our histories.
Fiona McGregor is an award-winning novelist and performance artist with a deep involvement in the worlds she represents.
She came of age as an artist during an outpouring of performative queer creativity, in a community that celebrated subversion, dissent and uninhibited partygoing, and in her writing she observes the shift from that moment to new forms of cultural repression.
McGregor is a participant in her essays as well as a witness – she sees through an artist's eyes and records what she perceives with a novelist's insight.
Fiona McGregor has published six books, including Indelible Ink, which won the Age Book of the Year and was shortlisted for several other awards; Strange Museums, the memoir of a performance art tour through Poland; the short story collection Suck My Toes, which won the Steele Rudd Award; and the underground classic chemical palace.
Her most recent titles are the essay collection Buried Not Dead and the photo-essay A Novel Idea, both published by Giramondo. She writes for The Monthly, The Saturday Paper, Overland, Runway and Running Dog.
She is known for her extensive repertoire of performance art with a focus on the body, duration and endurance, and is an organiser in Sydney's alternative queer culture.
"McGregor has a fine eye for the moment, in a text or performance, when the marvellous happens. Cutting across the boring divides between high art and low dives, Buried Not Dead is alive to what's alive." – McKenzie Wark
---
Buried Not Dead is published by Giramondo Publishing and is available from all leading book sellers including Dymocks.
Image: Buried Not Dead – courtesy of Giramondo Publishing