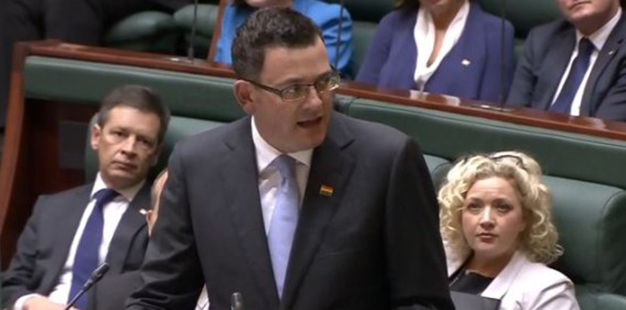 Groups and individuals from all parts of Victoria's GLBTI community have been announced as the inspirational finalists for the 2016 GLOBE Community Awards.
The set of 38 finalists, announced from over 60 nominations across 10 categories recognize work being delivered across all parts of the GLBTI community, and right throughout Victoria. The GLOBE Community Awards are the only awards to recognise excellence in Victoria's GLBTI community.
GLOBE President David Micallef said that 2016 has been a difficult year for the community but despite this, the community has continued to shine: "Each year the community continues to amaze us and inspire us with work that supports the needs of people who identify as GLBTI," said David.
"This year it is great to see a lot of work being done in the gender identity space and some inspiring work being done by young people in our community. It is also heartening to see that inspirational work is happening not just in Melbourne, but throughout regional Victoria as well."
The six judges for 2016 are Anna Brown, David Hannam, Emma Page Campbell, Gus Johnston, Farrah Tomazin and Peter Hitchener. Nominations closed on 31 August 2016 and each of the six judges were allocated a number of categories to review, with all judges reviewing nominations for the GLBTI Person of the Year.
"This approach helps us ensure that a fair assessment is applied to all nominees and that we manage any conflicts of interest," said David. "I wish all of our finalists the best of luck at the 2016 GLOBE Community Awards."
2016 GLOBE Community Awards Finalists are:
A Healthy Community
Equinox Gender Diverse Health Centre
Royal Children's Hospital Gender Service
GLBTIQ Sports Festival, Team Melbourne
Queerspace, Drummond Street Services
Connecting the GLBTI Community 
SWAG Albury/Wodonga
VAC, Lesbian Bisexual and Queer Women's Health Conference
Victorian Public Service Pride Network, Establishment of a VPS Pride Network
RMIT, Pride Mentoring Program
ANZ Excellence in Business
The LAIRD
RMIT, Pride Mentoring Program
LGBTI Jobs
The GH Hotel
Protecting our Community
Victorian Public Sector Pride Network, Supportive and Understanding Human Resource Teams
Blue Cross, Proud to be Me
Victorian Local Government Association, Local Government Turns Rainbow
Joy 94.9
Media Excellence
Alice Clarke
Dean Arcuri
Mark Kearney
James Findlay
Artist of the Year
Lisa White
Gavin Roach
Cory McKinnon
The Sparrow Men
Straight ally of the Year
Rebekah Robertson, Transcend
Daniel Andrews, Premier of Victoria
Angie Green, Stand Up Events
Matt Finnis, St Kilda Football Club
Volunteer of the Year
Ayman Barbaresco
Colin Krycer, VAC
Jed Gilbert, Joy 94.9
Rebecca Bauer, Melbourne Inclusive Church
The John Marriott Sportsperson of the Year
Andrew 'Disco' Sciberras, Melbourne Surge
Todd Patrick, Glamourhead Sharks
Cassio Muniz Goncalves, Melbourne Spikers
Victorian GLBTI Person of the Year
Micah Scott
Georgie Stone
Brett Bowen
Hosted by the hilarious Judith Lucy, the winners will be announced at a gala awards night on Friday 21 October at the Myer Mural Hall, Melbourne. For more information and to book tickets, visit: awards.globemelbourne.com.au for details.
Image: Premier of Victoria, Daniel Andrews