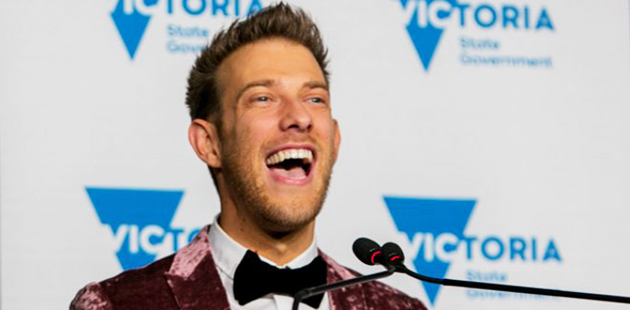 The 2018 GLOBE Community Awards has announced its finalists for this year's awards, which highlight the amazing and inspirational work happening across Victoria's lesbian, gay, bisexual, transgender and intersex communities.
Thirty-four finalists have been chosen out of over 90 nominations in 2018, with business leaders, volunteers, sports people, artists and community groups all making up the list of incredible finalists across ten categories, including the major award Victorian LGBTI Person of the Year.
GLOBE President Daniel de Rochefort has been amazed at the caliber of the nominees: "Nominations for the GLOBE Community Awards are a snapshot of the amazing work that is happening in Victoria's LGBTI community – and reflective of the issues that are impacting the community."
"For example, this year's finalists for the John Marriott Sportsperson of the Year Award all identify as transgender, which is testament to the amazing work that our transgender community has been doing to increase inclusion in sports," said Mr de Rochefort.
The gala event raises funds for the GLOBE Community Grants, supporting LGBTI community groups, a scholarship and a small business grant. GLOBE gave out grants totaling $27,000 this year and hopes to raise an impressive amount to support the community in next year's grants.
"The GLOBE Community Awards is an opportunity for community leaders to stop, reflect and celebrate the work that they have achieved to maintain the momentum of our community and continue to make Victoria one of the greatest places to identify as LGBTI," said Mr de Rochefort.
Winners will be announced at the GLOBE Community Awards Gala on Friday 19 October 2018. For more information, visit: www.awards.globemelbourne.com.au for details.
Image: 2017 Victorian LGBTI Person of the Year – Micah Scott – courtesy of GLOBE Community Awards
---
Finalists for the GLOBE Community Awards 2018 are:
A Healthy Community (sponsored by VicHealth)
• Pride Cup
• Project Rockit
• Thorne Harbour Health, LGBTIQ Women's Health Conference
Connecting our Community (sponsored by Optus)
• headspace Bendigo, Diversity Program
• Melbourne Queer Film Festival
• The Coming Back Out Ball
ANZ Excellence in Business
• Lipp Media
• Project Rockit
• Respekt Your Hair
• Endorphin Wealth Management
Protecting our Community (sponsored by Lander and Rogers)
• Switchboard Victoria
• LGBTI Rights Unit of the Human Rights Law Centre
• Project Rockit
Think HQ Media Excellence
• Dean Arcuri
• Matthew Wade
• Daniel Miles
• Trans POV, Joy 94.9
Artist of the Year
• Dani Weber
• Tristan Meecham
• Christopher Bryant
Volunteer of the Year
• James Houghton, Thorne Harbour Health
• Jamie Gardiner, Liberty Victoria
• Alison Hogg, Equal Love
John Marriott Sports Person of the Year Award
• Carter O'Reagan
• Hannah Mouncey
• Bowie Stover
Straight Ally of the Year
• Rebekah Robertson
• Jo Hirst
• Dr Maria Pallotta-Chiarolli
• Angie Green
Victorian LGBTI Person of the Year
• Margarita Coppolino
• Wilhelmina Stracke
• James Lolicato
• Jeremy Wiggins