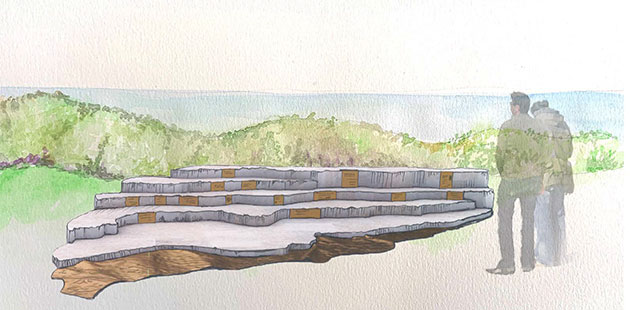 ACON and Waverley Council have announced that Urban Art Projects (UAP) will be commissioned to create the Bondi Memorial to victims of LGBTQ hate crimes in Marks Park, Tamarama.
UAP's successful design Rise was one of six shortlisted designs for the Bondi Memorial public artwork, which will honour victims and survivors targeted in homophobic and transphobic attacks in Eastern Sydney and broader Sydney.
Lesbian, gay, bisexual and transgender people were the targets of violent hate crimes from the 1970s to 1990s, resulting in many gay men and trans women losing their lives in NSW, including along the Bondi coastline and Marks Park.
Following an open tender process and community consultation involving six shortlisted concept designs, UAP's six-level stone terrace representing the six bands in the pride flag was the design seen as wholly embracing the memorial's guiding principles of remembrance, diversity, inclusion, justice and acceptance.
ACON CEO Nicolas Parkhill said UAP's design embodies the spirit and themes of the Bondi Memorial Project: "ACON congratulates UAP on being selected to create the memorial for their beautiful and deeply moving artwork," he said.
"We know it will serve as a respectful memorial to the victims and help heal the trauma these past events have caused for the families of victims, as well as the LGBTQ community and many local residents. The events of this dark chapter in Sydney's history have left a painful legacy that continues to be felt today."
"The memorial will help raise greater community awareness of the issue of anti-LGBTQ hate crimes, promote the continuing need for relevant information to be brought to the attention of police, and serve as a reminder of the importance of valuing and celebrating diversity in our community," said Mr Parkhill.
Deputy Mayor of Waverley, Elaine Keenan, said UAP's design fulfilled all the criteria the Project had outlined in serving as a respectful, engaging and moving memorial to many who had lost their lives due to hate.
"The Waverley Public Art Committee, Council officers and ACON staff all noted the subtlety and elegance of the design and its response to our Public Art Policy's criteria for placemaking, artistic excellence, local culture and heritage and sustainability," said Councillor Keenan.
"Since 2015, ACON has been working in partnership with Waverley Council towards the development of this artwork, which will help in acknowledging the past and also in looking to the future," added Parkhill.
"I would like to thank everyone who took the time and submitted memorial designs, which were all amazing in their own way, as well as our communities for making sure their voices were heard in shaping this important monument."
---
For more information about the Bondi Memorial Project and to assist the fundraising effort, visit: www.bondimemorial.com.au for details.
Image: Rise (concept visualisation) – courtesy of Urban Art Projects (UAP)
Note: ACON provides services for community members or victims' loved ones who may be distressed by this content, as well as the issue of abuse and violence towards LGBTIQ people in general. ACON provides counselling, care coordination and referral support for LGBTIQ people and those affected by HIV. To make an inquiry please call (02) 9206 2000 or visit: www.acon.org.au