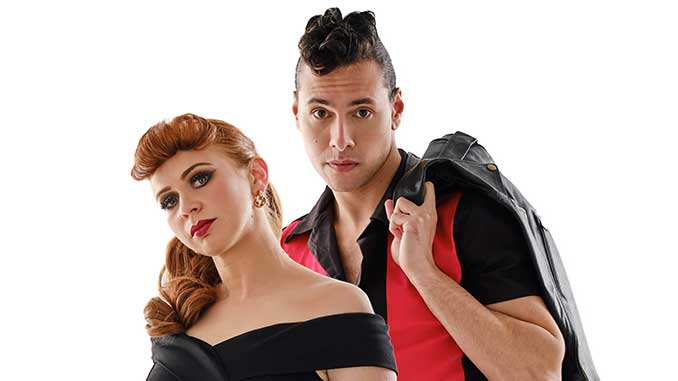 Producers of the upcoming all-new and electrifying production of GREASE are delighted to reveal the final performers joining the gang at Rydell High. The production opens at Her Majesty's Theatre, Melbourne on 31 December 2023 and the Capitol Theatre, Sydney from 24 March 2024.
Key cast members announced include Keanu Gonzalez (Hamilton) in the role of bad boy Kenickie, Lucy Fraser (Hairspray) as the perky Patty Simcox and Gareth Isaac (Mary Poppins) as nerdy Eugene.
Joining the iconic Pink Ladies includes Catty Hamilton (The Rocky Horror Show) as Frenchy and Caitlin Spears (Hairspray) as Jan, while Andy Seymour (The Phantom of the Opera on Sydney Harbour) as Roger, Harry Targett (Hairspray) as Sonny and Tom Davis (The Book of Mormon) as Doody, are donning the famed leather jackets as the T-Birds.
The cast of the beloved, worldwide favourite musical previously announced includes Annelise Hall in the coveted role of Sandy, rising star Joseph Spanti as Danny, Mackenzie Dunn as everyone's favourite bad girl Rizzo and Brianna Bishop as Marty.
Patti Newton will be ringing the school bell as the much-loved Miss Lynch for the Melbourne season, Jay Laga'aia is set to sizzle as Vince Fontaine and the incomparable Marcia Hines will bring the house down as Teen Angel. PAULINI will be joining the cast as Teen Angel in certain performances.
Ensemble cast members joining the star-studded line-up include Fabian Andrés, Oscar Bridges, Laura Joy Bunting, Cristina D'Agostino, Axel Duffy, Daniel Erbacher, Madeleine Mackenzie, Conor Putland, Rose Shannon-Duhigg and Emma Whitefield.
Featuring dazzling costumes and all those unforgettable songs from the movie, including Summer Nights, Sandy, Hopelessly Devoted to You, You're The One That I Want, Greased Lightnin', and Grease is the Word – GREASE really is "fast, furious and thrilling, an injection of raw energy… and fun, fun, fun!" (The Daily Mirror, UK).
Since the show's Broadway premiere and the hit movie starring John Travolta and Olivia Newton-John – which went on to become the highest grossing movie-musical of all time – the Tony Award nominated GREASE has triumphed across the globe, with its irresistible mix of adolescent angst, vibrant physicality and 1950s pop culture.
GREASE is also working with the Olivia Newton-John Cancer Wellness & Research Centre as the Official Charity Partner with Annelise Hall as an Ambassador for Olivia's Walk for Wellness on Sunday 8 October. Further fundraising initiatives for the GREASE partnership with the Olivia Newton-John Cancer Wellness & Research Centre will also be announced over the coming month.
---
GREASE plays Her Majesty's Theatre, Melbourne from 31 December 2023 and the Capitol Theatre, Sydney from 24 March 2024. For more information, visit: www.greasemusical.com.au for details.
Image: Mackenzie Dunn as Rizzo and Keanu Gonzalez as Kenickie – photo by Benny Capp