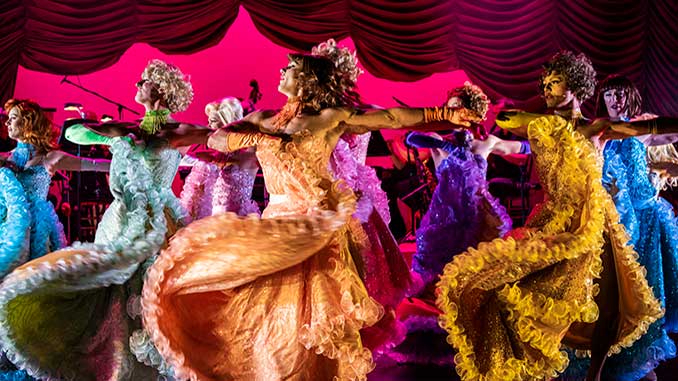 Debra Byrne, Peter Phelps, Genevieve Morris, Loredo Malcolm and Bev Killick will join the Melbourne cast of the hit Broadway musical La Cage aux Folles, opening at Arts Centre Melbourne from 9 November 2023.
Celebrating its 40th Anniversary, the much-loved, 11 Times Tony Award-winning musical La Cage aux Folles is back in Melbourne starring one of Australia's most versatile stage and screen performers, five-time Helpmann Award winner Paul Capsis in the lead role of Albin and internationally renowned singer and actor Michael Cormick (Beauty and The Beast, The Phantom of The Opera) as his husband Georges.
Legendary entertainer Debra Byrne (Sunset Boulevard, Les Miserables) is playing Jacqueline the stylish restauranteur and best friend of Georges and Albin. Silver Logie winner Peter Phelps (Stingers, The Flying Doctors) reprises his role as Edouard Dindon, our conservative politician and future in-law, and Genevieve Morris (Ride Like A Girl, Comedy Inc) is playing his wife Marie Dindon.
Loredo Malcolm (The Rocky Horror Show, Hamilton) takes the role of the wild butler/maid, Jacob, and Bev Killick (Jack Irish, Savage River) plays the hysterical stage manager Francis. The two young lovebirds, Jean-Michel and Anne, at the centre of the caper will be played by exciting new talents Noah Mullins (Jagged Little Pill) and Genevieve Kingsford (Mary Poppins).
Playing the "notorious and dangerous Cagelles" are the extraordinary all singing, all dancing talents of Pedro Donoso, Nick Eynaud, Nick Jones, Ethan Ritchie, Trent Sinclair, Leigh Sleightholme and Max Walburn. Also joining the mayhem is James Lee as Tabarro, and Rachel Cole playing Colette, both are townspeople of Saint-Tropez.
The original 1983 Broadway production ran for more than four years and won six Tony Awards including Best Musical, Best Score and Best Book. The success of the musical spawned a West End production and several international tours as well as the box-office smash-hit film The Birdcage starring Robin Williams and Nathan Lane.
Subsequent revivals have garnered considerable success, winning the Tony Award for Best Revival of a Musical in both 2004 and 2010, as well as the Olivier Award in London for Best Musical Revival in 2008.
A traditional Broadway musical with big, brassy dance numbers, La Cage aux Folles was considered revolutionary in many ways when opening on Broadway in 1983, breaking down barriers for gay representation by becoming the first hit Broadway musical centred on a homosexual relationship. The show's act one finale, I Am What I Am, received praise as a "gay anthem" and has been widely recorded, most notably by Gloria Gaynor.
Based on the 1973 French play of the same name by Jean Poiret, La Cage aux Folles boasts infectious melodies by Jerry Herman (Hello Dolly, Mame) and a hysterical book by Harvey Fierstein (Kinky Boots, Torch Song Trilogy).
The show tells the story of a gay couple who run a St Tropez drag club and when their (heterosexual) son brings his fiancée's ultraconservative parents for dinner, chaos and hilarity ensues.
This production, produced by David M. Hawkins, opened to rave reviews at the State Theatre in Sydney earlier this year with direction by Riley Spadaro (The Italians, This Bitter Earth), and choreography by Veronica Beattie George (The Boy from Oz, Guys and Dolls).
"Capsis is perfectly matched by Michael Cormick who offers a superb performance as the suave, handsome, unflappable Georges." – Australian Arts Review
---
La Cage aux Folles
Playhouse – Arts Centre Melbourne, 100 St Kilda Road, Melbourne
Season: 9 – 19 November 2023
Bookings: www.artscentremelbourne.com.au
For more information, visit: www.lacage.com.au for details.
Image: The Cagelles in La Cage aux Folles – photo by John McRae