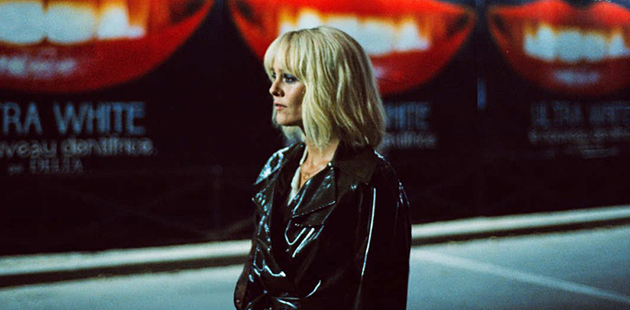 Films involving the production of porn have varied in taste in the twenty two years since the release of Paul Thomas Anderson's drama-comedy, Boogie Nights.
Where focus has been on exploring the history of abuse experienced by those involved in the production, it too represents the economics of sexual consumption, particularly at the exploitation of women that are of a certain appearance.
Differentiating itself from the pact comes Knife+Heart – a French-Queer-Horror film that uses the confines of a porn shoot as discourse for the reclamation of sexual identity under threat of homophobia.
A string of sexually based murders of gay pornographic actors sees producer Anne (Vanessa Paradis), an alcoholic woman who struggles to handle her separation from her partner Lois (Kate Moran), lead a one-woman investigation into uncovering the murderer.
Vanessa Paradis is magnetic in her portrayal of Anne, medicated heavily on alcohol as if to drown out her sorrow and delivering on the duality of her character which is manipulative and manic. Except for Lois who exists to create internal conflict in Anne, others featured in Knife+Heart feel like novelty inclusions, with characters such as 'The Mouth' existing for dark-humour purposes.
Knife+Heart succeeds as a statement piece highlighting the discrimination experienced by the LGBTQ community, particularly that of sexually based offences and the manner which they are (if at all) investigated.
Anne's investigation of the murder is where Knife+Heart begins to stagger with new information leading to the identity of the murderer (who appears throughout the film and looks like the fusion of The Gimp from Pulp Fiction and Nightcrawler from X-Men) introduced late into the game feeling unearned, un-doing the build-up for the first two acts of the film, and resulting in an underwhelming payoff.
Seemingly inspired by John Carpenter's Halloween, Knife+Heart extends its struggles into the horror department by using a lurking presence to create fear, though, is never able to establish any sense of menace due to the absurd way murders are conducted and a lack of gore that could have built physical tension.
Where French films have historically celebrated the experience of unbridled love, Knife+Heart, as implied in the title, explores the connection between sexually charged violence and intimacy, whether physical or emotional, and is done so with positive intent despite being let down by a less than emphatic final act.
---
Knife+Heart screens as part of the 2019 Alliance Française French Film Festival. For more information, screening locations and times, visit: www.affrenchfilmfestival.org for details.
Image: Knife+Heart (supplied)
Review: Hagan Osborne