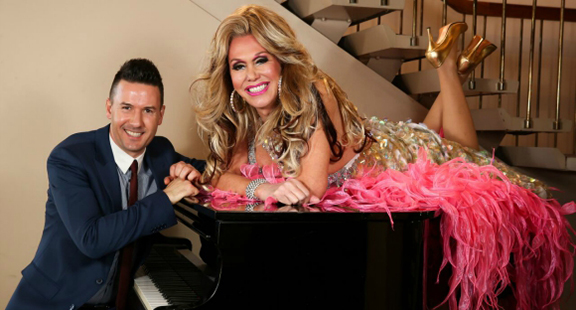 Hold your horses on buying tickets to any other Melbourne Cup event as Feast Festival's Melbourne Cup lunch at the Sage Hotel on Tuesday 3 November is the one not to be missed!
Whether it is the Melbourne Cup antics you are after or simply a relaxing afternoon soaking up the ambience, gallop down to the Orchid Room as this special lunch is set to be a glamour-fest as Adelaide glamazon Vonni and cabaret star and Feast Ambassador Michael Griffiths keep you entertained all afternoon.
Michael Griffiths, Adelaide's own cabaret star and international sensation, recently returned from the Edinburgh Fringe Festival where he performed his highly acclaimed show Sweet Dreams: Songs by Annie Lennox – receiving high praise. Throughout the lunch, Michael will serenade guests with his smooth vocals.
Sharing the afternoon's entertainment, Adelaide's favourite glamazon Vonni will treat attendees to a fiery drag performance of her own. Celebrating 40 years on the stage this year, Vonni recently announced that she has no intention of slowing down. "The thought of retiring never enters my head. I think hard work is the secret to a longer, more productive life – and I plan on being around till I'm over 100," said Vonni.
There'll be cup sweeps, silent auctions and champagne to celebrate the horse race in style. Together with the musical theatrics, enjoy a spectacular fashion parade by local fashion guru Scott Faulder as he presents selected pieces from his label Scott&Scarce and other extraordinary costumes designs.
So for a fabulous afternoon, head to the Sage Hotel on South Terrace. The Melbourne Cup lunch commences at 12.00pm. Tickets are $99.00 per person and includes a three-course meal and a 3 hour drinks package. For more information and tickets, visit www.feast.org.au for details.
Image: Michael Griffiths and Vonni (supplied)