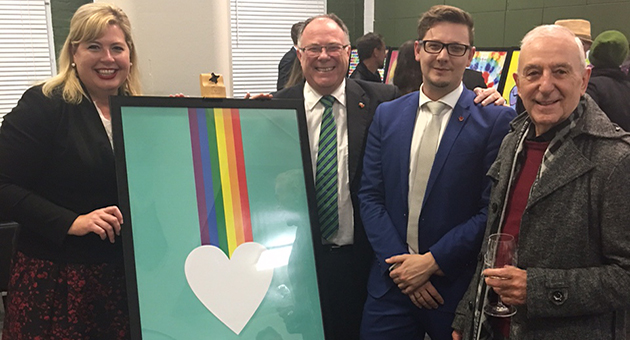 Adelaide's Feast Festival is Celebrating Love in 2016 with the announcement of the Poster Competition winner ahead of this year's festival.
2016 was the revival of the poster competition and a way for the Festival to encourage the community to participate in a creative way, with Erick Lima, an Architecture student from the University of South Australia winning with his design and interpretation of the theme, Celebrate Love.
Erick receives an $800 cash prize – courtesy of SAMESH (South Australia Mobilisation + Empowerment for Sexual Health), and has the opportunity to work with Feast Festival for the rest of the year. His design will be on the 2016 program cover – with Celebrate Love as the overall theme of the Festival.
Explaining his creative thought process behind the simple yet powerful design, Erick said: "The heart is the universal symbol of love and the colour white is often associated with purity, innocence and light, so the white heart acts like a spectrum that exudes the rainbow love that unites us all."
Erick's winning entrant was chosen by a panel of judges including: Director of SAMESH, Colin Bartrouney; Arts South Australia Director, Peter Louca; SALA General Manager, Penny Griggs; Artist, Aaron Simonson; Feast Board Director's, Sandra Dudley-Branson & Heath Reed; Feast Patron, Margie Fischer; and Feast's General Manager, Cassandra Liebeknecht.
Executive Director of Arts South Australia Peter Louca said all the judges were very impressed with the entries. "It was very difficult to pick my top three, but I liked this design because it's a clear, simple, bold statement of love and inclusion," said Mr Louca.
Ms Griggs also shared why she thought that Erick's entry was the winner: "It was great to see the effort and creativity that went into each entry. I was particularly drawn to Erick's entry, as the chosen theme of 'celebrate love' was reflected so beautifully in the overall design."
Mr Bartrouney has been delighted that SAMESH can support Feast, and provide the cash prize to Erick. "SAMESH is very proud to be associated with Feast and support community art through the poster competition," said Mr Bartrouney. "The entries were very varied in the mediums and imagery, but the winner encapsulated the vibrant creative energy that is at the heart of every Feast Festival. Congratulations."
Feast's General Manager, Ms Liebeknecht is over the moon that the theme for this year's Festival is ready. "Excited is an understatement, seeing the talent of entries was great and Erick's design was sublime, the theme Celebrate Love is so poignant, especially now, so what better way to spread the love than through Feast Festival!"
The 2016 Feast Festival runs 21 October to 6 November. For more information, visit: www.feast.org.au for details.
Image: State MP Katrine Hildyard, Ian Hunter MLC, Chair of the Feast Board Joshua Rayner and Feast Foundation Member, Mr Frank Ford with Erick Lima's winning design (supplied)