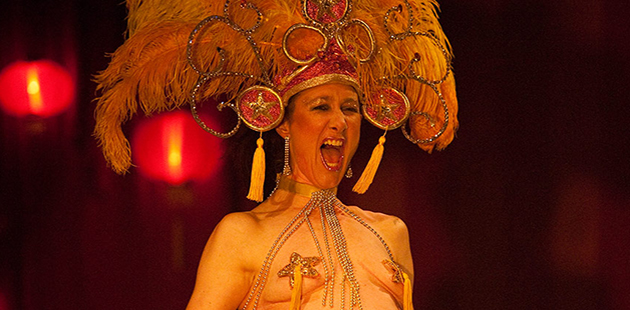 Adelaide's Feast Festival is shaping up to be one of the most exciting yet, with two more major acts announced as part of the November line-up: Australian nude burlesque artist Maude Davey and Scottish singing sensation Horse.
Acclaimed theatre maker and performer, and former artistic director of Adelaide's own Vitalstatistix Theatre Company, Davey will bring her critically acclaimed show My Life in the Nude to Feast for six tantalising performances.
A celebration of her body of work (literally), this funny and captivating nude cabaret show is Davey's swan song to more than 30 years of nude performance. Hilarious and profound in equal parts, My Life in the Nude is a ribald retrospective in which Davey farewells a career spent in the buff by baring all for the very last time.
Scottish singer Horse will also bring her famous velvety vocals to Feast for a special one-off Adelaide concert, as well as dates in Port Augusta and Mount Gambier.
Hailed as one of the UK's all-time greatest voices, Horse has toured with such legends as Tina Turner, BB King, Bryan Ferry and Burt Bacharach and last year released her ninth studio album Home to rave reviews. With her rich voice, powerful lyrics and passion to match, Horse will leave you breathless.
Davey and Horse join the stellar line-up alongside Olympic and Commonwealth Games gold medallist and 2014 Feast Ambassador Matthew Mitcham, whose cabaret show Twists and Turns has already been announced for the Festival.
Also new to Feast this year is the INDULGE Lounge, a sexy bar and chill-out space designed by Adelaide style gurus Cain and Markus of LB Design. Located in the heart of the Festival in the Lion Arts courtyard, INDULGE will be decked out with luxe furniture and opulent fabrics for an "Arabian Nights" feel – the perfect backdrop to an indulgent night of partying.
With food and drinks by Peta-Anne Louth and Jacinta Warnest of Bespoke Hospitality and Events, INDULGE is a deliciously decadent place to relax, have a drink or a bite to eat and, of course, indulge.
Feast is Adelaide's largest LGBITQ arts and cultural festival encompassing music, theatre, dance, comedy, cabaret, film and visual arts, running 15 – 30 November 2014. The full program will be announced on Tuesday 16 September. For more information, visit: www.feast.org.au for details.
Image: Maude Davey in My Life in the Nude – photo by Paul Dunn