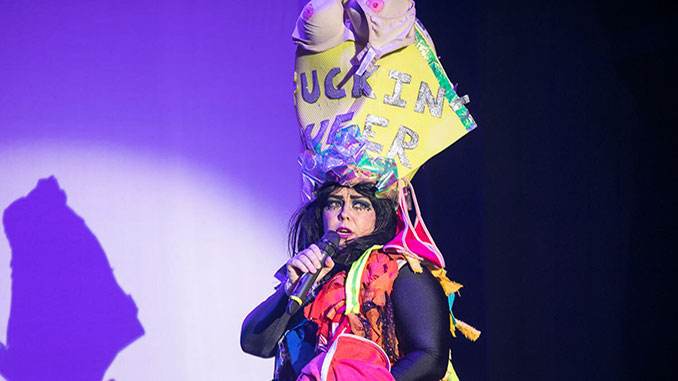 Playing as part of 2021 Midsumma Festival, Arts Centre Melbourne presents the long awaited debut of F*ck Fabulous in the Fairfax Studio from 20 April. Hosted by queer, femme cabaret icon Yana Alana (Sarah Ward), the variety show boasts a fierce line up of dance, circus, drag, comedy and performance art.
F*ck Fabulous features performances from circus icon Jess Love, queer side-show clown Dale Woodbridge-Brown, performance artist Nicci Wilks, dance duo Glitter & Snatch, aerial contortionist Seth Sladen, Drag King Koko Ma$$, performance wunderkammer Gabi Barton and drummer boi Bec Matthews.
"There's something about live performing arts that creates such a visceral response. It's a more immediate, animalistic reaction. That's what we look forward to doing and we're very excited to be putting this back in front of audiences," says F*ck Fabulous Artistic Director Sarah Ward.
"This work is incredibly playful and funny. It's almost a multi-art form show, we've got dance, circus, live music and acting. I think that's the wonderful thing about variety, in its nature you prefer one thing to another."
"But there's something in there for everyone. We want to see people watching hard working sweating bodies on stage and a bit of chaos."
The show was originally slated to debut in April 2020, but like a lot of performances the F*ck Fabulous team have had to navigate an extended wait to finally have its moment.
"Energetically were going to have to work on this show differently, we can't do it how we did last year. No one has the same energy and the same bodies. I'm fatter and less fit for a start, and that's fine, but mentally we're going to have to be very kind to each other and be very patient. We will have to step up our communication and transparency," said Ward.
This incredibly talented group of performers have become even closer throughout the events of the last year; a sense of unity has been forged through adversity and their connection to the show.
"We've supported each other through this show. One of our cast members has had an operation. Another one has had a child and there's been lots of big life moments between last season and this season," says Ward.
"We have become a little family over this. We only really spent two weeks performing together last year but it was incredibly intense and incredibly personal. We've become a really cohesive unit and that will be on display in this run at Arts Centre Melbourne," said Ward.
Cabaret artist, actor and writer Sarah Ward is the creator of cabaret character Yana Alana and Queen Kong. Ward was awarded a Helpmann and along with her creative team have 11 Green Room Awards, the Adelaide Fringe Award and the Melbourne Fringe Award for Cabaret.
Ward was MC for Circus OZ and has worked with La Soirée, Finucane and Smith, Retro-Futuristmas, Yummy, Arena Theatre Company, Melbourne Works Theatre and The Women's Circus.
Ward was co-creator of cult hip-hop cabaret act, Sista She and played the role of Bobby in the theatre production Shit. She has a passion for the creation of subversive, political work that challenges gender stereotypes and the status quo through her larger than life stage creations.
Creative Producer: Sarah Ward Directorial Eye: Susie Dee Featuring: Yana Alana (Sarah Ward), Jess Love, Dale Woodbridge-Brown, Nicci Wilks, Glitter and Snatch, Seth Sladen, Koko Ma$$, Gabi Barton, Bec Matthews Musical Director: Bec Matthews Designer: Joe Noonan Lighting Designer: Monique Aucher Group Choreographer: Gabi Barton Videographer: Chris Bennett
---
F*ck Fabulous
Fairfax Studio – Arts Centre Melbourne, 100 St Kilda Road, Melbourne
Season: 20 April – 2 May 2021
Information and Bookings: www.artscentremelbourne.com.au
Image: Yana Alana stars in F*ck Fabulous – photo by Alexis Desaulniers-Lea